E-mail delay highlights sluggish federal communication network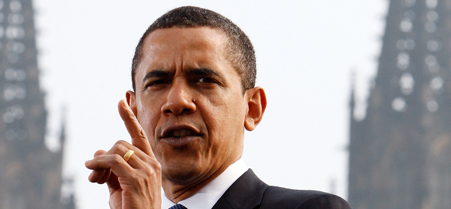 President Obama addresses a crowd in Prague on Sunday, April 5.Charles Dharapak/AP
The Obama administration directed agencies in February to solicit input from employees on improving government transparency, but some didn't receive the message until after the comment period ended in March, according to several workers and consultants who provided feedback.
A Feb. 24 executive memo asked department heads to invite agency officials and staff to contribute recommendations for establishing a system of transparency, public participation and collaboration through an internal Web site by March 6. The site was created in response to a Jan. 21 memo from President Obama. The February announcement was e-mailed to high-level officials, who then disseminated it down the chain of command to managers and employees. But many participants found out about the site indirectly through unofficial channels, such as social networking sites, before receiving the official announcement in mid-to-late March, after the deadline for comments had passed.
Receiving the official message so late "highlighted one of the areas that have been a struggle" for open government, said Jack Holt, senior strategist for emerging media at the Defense Department. "If it comes through the normal channels, then we know it's verified, we know it's good information. . . .In this new media, social media environment, we don't have a good way of doing [that] just yet." Holt received the official e-mail on March 16. The comment period ultimately was extended to March 27; agency leaders are supposed to submit recommendations to the Office of Management and Budget before May 21.
Despite the communication delay, Holt said the collaborative effort was "beneficial" and "very well laid-out" with a wiki section -- a page that allows any user to add, delete and edit content -- and a static section to capture the online discussion.
The slow-drip of information dissemination throughout the agencies exposed a roadblock to creating the open system that Obama envisions. The government's inherently bureaucratic structure and authentication processes frown upon e-mail blasts, which are lightning quick, but risky.
"The formalized process of describing important information is not short," said Noel Dickover, an independent contractor who heard about the discussion secondhand and also provided feedback. He expects the government as a whole eventually will embrace informal communications, such as social media, for instant information. But for now, a three-day delivery window is a reasonable goal for official e-mails that must navigate each agency's distinct computer systems and security procedures, Dickover said.
Officials at the White House Office of Science and Technology Policy, which co-hosted the site, said one challenge in implementing that aspect of Obama's Jan. 21 memo was OSTP did not have a director until March 19.
"Our commitment to openness should not be in question," said Rick Weiss, the office's communications director, on Monday -- his first day filling a job that until this week had been vacant. "There is a huge amount of preparatory work going on. The difference in government transparency compared to the past is going to be revolutionary."