Former Microsoft CEO Opts to Open Government Himself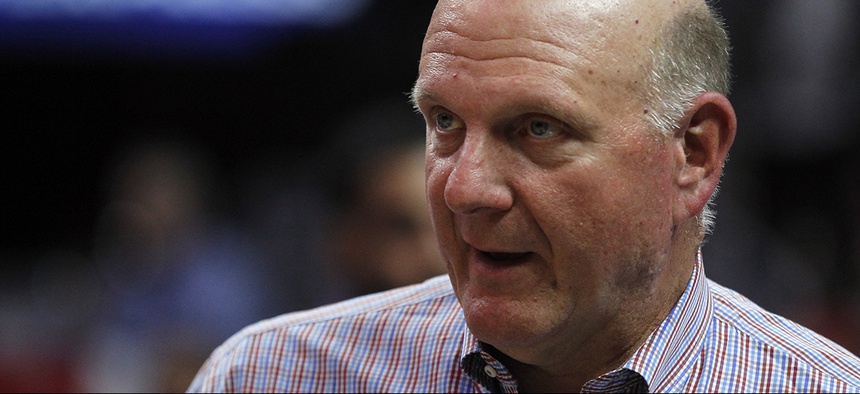 Government spending patterns might not seem like the most pressing concern for Steve Ballmer, formerly chief executive of Microsoft and current owner of the Los Angeles Clippers. And yet, it's the theme of his newest tech venture, USAFacts.org, a searchable repository of public-sector spending data.
Ballmer on Tuesday unveiled the site, which, as of the morning, had intermittent outages, initially appearing unable to accommodate traffic. USAFacts.org presents various analyses of government finances at the local, state and federal levels, including a breakdown of the $5.4 trillion in total public sector spending in 2014.
The site comes as federal agencies are approaching the May compliance deadline for the Digital Accountability and Transparency Act, which requires them to publish their spending data online. And last month, a bipartisan group of House lawmakers reintroduced the OPEN Government Data Act, which would require agencies to share the data they collect in a machine-readable format.
» Get the best federal technology news and ideas delivered right to your inbox. Sign up here.
USAFacts.org's analyses, conducted in collaboration with Wharton and the Stanford Institute for Economic Policy Research, examine both revenue and spending patterns. In 2014, the data show, about $1.2 trillion was allotted to "promoting the general welfare," including supporting the Post Office and investing in various public health efforts; that category represented about 23 percent of total spending, 34 percent of which came from the federal government.
The project purports to be nonpartisan, according to its mission statement. "We do not propose policy," the site notes. "We have assembled this report consisting of unbiased government data so the American public can draw its own conclusions."
Eventually, the USAFacts team plans to hire an accounting firm to confirm its analysis processes are "suitably designed and operate effectively."
All data presented on the site is based on that collected by the government, according to the team.
"We are limited by the timeliness, availability and consistency" of information the government provides—for instance, the Census Bureau's most recent state and local budgets are from 2014.