Author Archive
Jack Corrigan
Staff Correspondent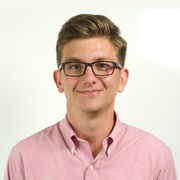 Emerging Tech
The Pentagon's research arm wants to get up to speed on quantum computing before China and other adversaries.
Emerging Tech
The Joint Artificial Intelligence Center will be the hub for all projects that exceed $15 million.
IT Modernization
The House Veterans Affairs Committee also unveiled the lawmakers who will track the project from its new subcommittee.
Cybersecurity
Participants can win between $150 and $5,000 for each bug they find.
Emerging Tech
The government is well-positioned to flag specific research areas that would have the biggest impact on national interests.
Emerging Tech
The challenge's goal was to reduce false alarms and pat-downs.
Emerging Tech
The federal deputy chief technology officer is confident the U.S. will win the artificial intelligence race, but China is catching up fast.
Emerging Tech
Among the first technologies to be tested is an application that uses artificial intelligence to help paramedics make better decisions when treating patients.
Data
HHS' investments in data science, people and tools are paying off in a big way.
IT Modernization
Is cloud more secure than traditional government data centers? The CIA seems to think so.
Cybersecurity
The White House wants to build a single, unified strategy for strengthening the cybersecurity workforce at every agency across government.
CIO Briefing
The SEC is doing IT differently than it used to in the name of innovation.
IT Modernization
The Enterprise Infrastructure Services contract is a great opportunity for agencies to modernize, but they need to focus on people and planning to do it right.
Emerging Tech
DHS may soon use blockchain technology to protect all sorts of data it collects in protecting U.S. borders.
Emerging Tech
That includes looking at tech that connects patients with providers.
Data
The Health and Human Services Department would have to build a dashboard to share information about substance abuse, treatment and recovery.
Cybersecurity
Officials are looking to isolate the internet from agency networks by pushing web browsing to the cloud.
Emerging Tech
The agency's prepping for a trip to the moon as soon as next year.
Emerging Tech
The IC is exploring whether polymers could be the future of data storage.
Emerging Tech
The Summit runs roughly eight times faster and five times more efficiently than America's most powerful supercomputer to date.