Author Archive
Frank Konkel
Executive Editor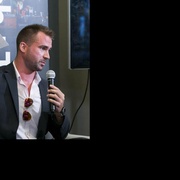 Frank Konkel is Nextgov's executive editor. He writes about the intersection of government and technology. Frank began covering tech in 2013 upon moving to the Washington, D.C. area after getting his start in journalism working at local and state issues at daily newspapers in his home state of Michigan. Frank was born and raised on a dairy farm and graduated from Michigan State University.
CIO Briefing
Plus the other goodies tucked into the National Defense Authorization Act federal employees need to know.
By

Joseph Marks, Heather Kuldell and Frank Konkel
IT Modernization
The Government Accountability Office recommended the Defense Department terminate a contract awarded to REAN Cloud in February.
By

Frank Konkel and Heather Kuldell
IT Modernization
VA will formally pursue the same health records platform as the Pentagon.
By

Frank Konkel and Heather Kuldell
IT Modernization
The test director recommends delaying further fieldings.
By

Frank Konkel and Heather Kuldell
CIO Briefing
The administration wants more young people in its government ranks, especially in tech.
IT Modernization
The Veterans Affairs Department will press on with its electronic health records contract without a permanent secretary or chief information officer.
IT Modernization
The giant and groundbreaking IT contract may cover just a fraction of the cloud-services orders to come.
By

Frank Konkel and Marcus Weisgerber
IT Modernization
Congress and watchdogs have been warning the IRS to upgrade its systems for years.
By

Aaron Boyd and Frank Konkel
Policy
Draft legislation from Rep. Mac Thornberry would eliminate several Defense agencies, including DISA.
CIO Briefing
And once set, it would bake them into agency performance plans.
CIO Briefing
General Dynamics finalized its acquisition of IT contractor CSRA for $9.7 billion.
Emerging Tech
Amazon Web Services may be the only vendor capable of meeting Defense Department requirements for its highly-anticipated cloud contract.
CIO Briefing
CACI withdrew its $7.2 billion offer to purchase IT contractor CSRA.
CIO Briefing
If General Dynamics' $9.7 billion acquisition of CSRA goes forward, the company will be the federal government's largest technology services provider by a wide margin.
IT Modernization
The Defense Department received more than 1,000 comments from industry regarding its JEDI cloud acquisition.
IT Modernization
Google wants to compete with Amazon, Microsoft and other companies for a share of the government's massive cloud computing market.
IT Modernization
Legal documents shed light on one of NSA's most important tech contracts.
CIO Briefing
After receiving an unsolicited bid Sunday from CACI, CSRA and General Dynamics sweetened their original merger agreement.
IT Modernization
The IRS' Individual Master File may be the oldest IT system in government and its failure could disrupt tax processing nationwide.