Author Archive
Brandi Vincent
Defense Technology Correspondent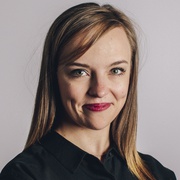 Brandi Vincent reports on national security technologies and policies, and produces the Critical Update podcast. Before joining Nextgov, she produced a long-form documentary and helped create news content at Snapchat and NBC Network. Brandi was named a 2021 Paul Miller Washington Fellow by the National Press Foundation and was awarded SIIA's 2020 Jesse H. Neal Award for Best News Coverage. She grew up in south Louisiana and received a master's in journalism from the University of Maryland.
Modernization
Every new delay should "be an alarm that goes off in the hearts and minds of those who are looking at how we can be competitive in the future against China," according to one official.
Emerging Tech
The potential, modern energy source could help power operations in austere environments down the line.
Emerging Tech
A new contract worth hundreds of millions will likely result in multiple new prototypes. 
---
People
President Joe Biden nominated Air Force Lt. Gen. Mary F. O'Brien for the Senate-confirmed position.
Digital Government
A new sources sought notice focuses on software that informs "go/no go" weather launch decisions.
Digital Government
Under her leadership the agency is 'just starting' to really understand what it means to apply data as a strategic asset.
Emerging Tech
Two companies are embarking on a fresh agreement to help pave the way toward JADC2.
Artificial Intelligence
Spaceborne Computer-2 is providing insights in real-time, just months after it was delivered to the ISS, Nextgov confirmed.
Policy
Three agencies could be required to report on the use of cryptocurrency for drug dealing on the dark web.
Emerging Tech
Only certain, U.S.-based companies will be considered for collaboration.
Policy
Space policy and technology experts weighed in on the nearly 800% increase for the Office of Space Commerce included in the FY2023 budget request.
Modernization
Officials say they essentially underestimated how long it would take to review plans from the four cloud service providers.
By

Lauren C. Williams and Brandi Vincent
Defense
Officials say they essentially underestimated how long it would take to review plans from the four cloud service providers.
By

Brandi Vincent and Lauren C. Williams
Modernization
An effort worth millions, led by GE Research, could result in an automated assurance model.
Emerging Tech
Data is driving insights around this modern conflict.
Cybersecurity
An hour-long press briefing shed new light on the cybersecurity implications of this evolving conflict.
Policy
Nextgov got an early look at a newly announced bill.