Greenpeace Spy Blimp Spies on NSA Spy Center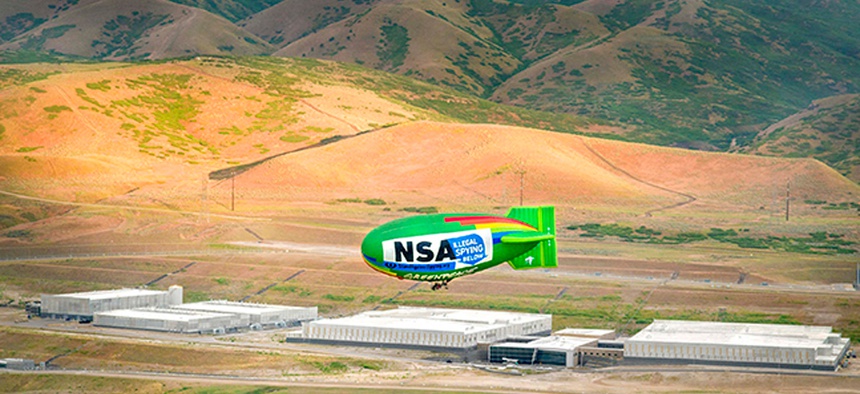 A diverse array of special-interest groups Friday launched a 135-foot-long surveillance airship over a colossal National Security Agency Utah supercomputer center to protest what they say is unlawful government surveillance. 
Electronic Frontier Foundation activist Parker Higgins, who helped organize the spectacle, tweeted an eagle-eye view of the facilities, with the accompanying message: "The evil lima bean where NSA hoards humanity's secrets. Just shot this from an airship above."
The thermal blimp, owned by environmentalist organization Greenpeace, carried a banner saying, "NSA Illegal Spying Below."
The data center, near Salt Lake City, is seven times bigger than the Pentagon.
NSA spokeswoman Vanee Vines told Nextgov photography and videography on the site is prohibited. But the air space is not restricted, she said.
Greenpeace's message also displayed a link to StandAgainstSpying.org, a new website that grades U.S. lawmakers on their action or inaction to curb NSA surveillance powers. The campaign is backed by about 20 grassroots groups and Internet firms, including Reddit, the Libertarian Party and the Council on American-Islamic Relations. 
"Rights rise or fall together," Greenpeace Senior IT Campaigner Gary Cook said in a statement. "Greenpeace has learned firsthand that people cannot protect their right to clean air and water if our civil rights -- including the right to free association and the right to be free of unreasonable searches -- are stripped away."
The environmentalists have used this stunt in the past to shame Silicon Valley into powering its data centers with renewable energy. In April, Recode reported that one side of the airship praised Apple, Facebook and Google for "Building the Green Internet," while the other side bore the logos of Amazon, Twitter, Netflix and Pinterest and asked, "Who's Next to Go Green?"
The 65-megawatt NSA compound in Bluffdale, Utah, uses standard commercial energy sources from Rocky Mountain Power, according to military contract papers and NSA officials. 
Greenpeace, EFF and advocacy organization Tenth Amendment Center, which all sponsored Friday's flyover, are also part of the report card initiative. 
Greenpeace has sued NSA for allegedly violating the First Amendment implicit right of association by collecting activists' call logs.