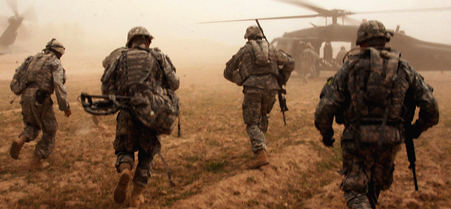 Defense Department
Many combat veterans try to handle the invisible but real psychological wounds of war by trying to tuck the memories away in a corner of their brain and never talking about them, an approach that leads to post-traumatic stress for months or years.
Exposure therapy -- gradually reliving those events in a nonthreatening setting with a therapist -- can help the trauma of combat, but it requires easy access to a clinician, something not readily available to many veterans living in rural areas.
For the past three years Peter Tuerk, a psychologist and associate director of the PTSD clinical team at the Charleston, S.C., VA Medical Center has used videoconferencing systems to conduct prolonged exposure therapy sessions with veterans who cannot make it to the hospital for face-to-face counseling. This week he received a VA national award for his pioneering work in recognition of his contributions in an area critical to the rehabilitation and improvement in the quality of life of war-injured veterans.
VA Secretary Eric Shinseki said the department presented Tuerk with its Olin Teague Award, named after the former Texas congressman and World War II veteran , as his work "exemplifies the strides VA is taking in understanding and treating" combat stress.
Tuerk, also an assistant professor of psychiatry and behavioral sciences at Medical University of South Carolina in Charleston, said his remote counseling combines "old-school techniques" with technology to help veterans face their fears and learn that "memories will not hurt them."
This pioneering effort by VA dovetails with plans by Gen. Peter Chiarelli, the Army vice chief of staff, to use telehealth systems to treat soldiers for combat stress.
Asked if veterans expressed reluctance to tap into their fears and memories over a videoconference, Tuerk said only 1 percent of hundreds of post-traumatic stress patients his clinic treated opted for face-to-face sessions. "The technology fades into the background," as treatment progresses and the patients become comfortable with the technology, at which point "the machine is not a big deal." The technology -- Tuerk uses Tandberg videoconferencing systems -- also is more convenient for rural patients, relieving them of a long drive to weekly sessions.
The combination of exposure therapy and telehealth does work, according to a paper Tuerk published on the remote treatment of a patient in the December 2009 issue of the Journal of Addiction Medicine .
The patient, a 22-year-old Iraq war veteran, experienced multiple combat firefights, witnessed many dead and mutilated bodies, was seriously wounded twice by blasts from improvised bombs, and was diagnosed with traumatic brain injury. On returning home, this veteran, like many others, turned to alcohol to mask his memories, downing 10 or more drinks daily.
The veteran lived 100 miles from the nearest VA facility, but was able to receive remote exposure therapy treatment at a VA community-based outpatient clinic hooked up to the Charleston hospital by a videoconferencing link. The patient received 11 weekly 90-minute exposure therapy sessions, which included an imagined return to combat and the memories it triggered.
After only two sessions, Tuerk said the veteran "reported a dramatic drop in intrusive memories and a lessening of the intensity of distress when awoken by nightmares." After the fifth session, according to Tuerk, the patient said, "It was amazing, it's like I'm better." At the end of the 11th session the patient also had cut back on alcohol consumption.
The South Carolina VA hospital is the first Veterans Affairs hospital in the country to offer remote prolonged exposure therapy, but Tuerk believes his work has national implications. The technology allows VA to get veterans into treatment faster and closer to their homes than traditional in-person therapy sessions, he said, helping to ensure all veterans receive the treatment they need.