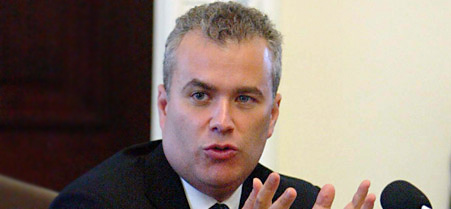 Chief Performance Officer Jeffrey Zients says a review of financial systems is generating results. Carrie Devorah/Newscom
White House officials announced on Wednesday they have canceled upgrades to financial management systems at the Small Business Administration and the Veterans Affairs Department as part of a strategy to save about $1 billion a year.
The Obama administration is reviewing the financial systems of major agencies -- worth a combined $20 billion -- to identify where they can save money. The review is a component of a reengineering of the federal information technology procurement process, which historically has delivered systems that are late, over budget and do not work as planned.
Of the projects it has assessed to date, the Office of Management and Budget has decided the two agencies' systems do not yet require upgrades. The White House will save $113 million by terminating SBA's loan management and accounting system and $423 million by shelving VA's project, officials said.
In addition, OMB plans to rework the financial management projects at the Environmental Protection Agency and the Housing and Urban Development Department by removing nonmission critical features that will save about $180 million and $44 million, respectively.
On June 28, the White House suspended about 30 financial system modernizations in the first step of an initiative to redo the way government buys and uses IT. For the past few months, agencies have slowed spending on the systems so they could scale down planned computing functions and speed up installation schedules.
Financial systems, in particular, have experienced major setbacks because project managers add too many sophisticated functions to requirements, Danny Werfel, controller of OMB's Office of Federal Financial Management, said during a call with reporters.
The purpose of the systems is to collect data in a central location from daily financial transactions that take place throughout a department so that agencies can produce a set of statements that then can be independently audited.
"The effort is still under way, but we're already getting results," said OMB acting Director and Chief Performance Officer Jeffrey Zients, who also was on the call. "This is an example of how we're taking proven best practices from the private sector and applying them to government."
OMB expects to wrap up its reviews this fall. In the meantime, the contracting community whose projects -- and income -- have been interrupted is growing concerned, say some industry groups. TechAmerica officials recently warned the uncertainty could cause companies to raise government prices as insurance against the risk that project spending could stop. Stan Soloway, president of the Professional Services Council, another contractor trade group, said the affected vendors should be allowed to participate in appraisals of suspended projects and other systems the government has categorized as high risk.
Zients, a former chairman of the management consulting firms the Advisory Board Co. and the Corporate Executive Board, has set a goal for government to meet the commercial sector's productivity rate by relying on IT for delivering services, as corporations have done for decades. "Closing this IT gap is key to boosting efficiency and making government more responsive," he said.
OMB may revisit its decision to cutback funding for EPA and HUD if the current projects run smoothly, Werfel said. The deferred funds will go toward less mission-critical elements.
"Right now we're not going to put those tax dollars to work, but we may in the future," he added. "Whether we budget for them in the future will depend on performance" and how well the agencies manage spending.
Meanwhile, SBA and VA will continue to rely on old financial management systems that have produced clean audits. "A decision to cancel a project is not necessarily because there are management deficiencies," Werfel said. "It's also: What are your technology needs right now?"
Sen. Thomas Carper, D-Del., chairman of the Federal Financial Management Subcommittee, praised the administration for curbing spending by refining IT investments. He urged the House to approve a bill he sponsored, S.920 , which the Senate passed in June to mandate similar efforts.
"The announcement by the administration that they will be pulling the plug on over $300 million worth of IT investments that time and again have failed to deliver on their promises was a welcome step in the right direction," said Carper, "In fact, this should have happened a long time ago. For years my colleagues and I urged the previous administration to hold agencies and contractors accountable for the skyrocketing costs and extended time lines on these failing investments."