Hill opposition grows to FCC spectrum auction plan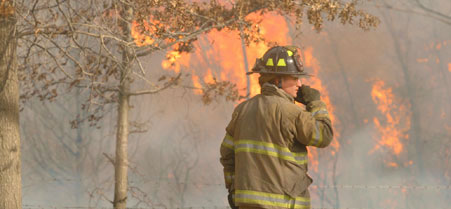 First-responder groups lobbied lawmakers this week to allocate spectrum for a public safety network. Laurie Sisk/AP File
A lobbying blitz by first responders and their allies has led to growing momentum in Congress for legislation aimed at preventing the Federal Communications Commission from selling commercial firms access to communications spectrum that public safety organizations say they need.
Senate Commerce Chairman John (Jay) Rockefeller, D-WVa., announced plans on Wednesday to introduce a bill that would require FCC to set aside the so-called D-block to help create a state-of-the-art, interoperable communications network that is considered essential in the post-9/11 era.
Rockefeller said his bill "will provide public safety with an additional 10 megahertz of spectrum to support a national, interoperable wireless broadband network that will help protect people and keep them from harm."
The frequencies would be coupled with an additional 10 MHz already controlled by police, fire and rescue squads. "This spectrum allocation will provide those who wear the shield with the resources they need to do their jobs," he added.
The Association of Public-Safety Communications Officials praised Rockefeller, as the creation of such a network was recommended by the national commission that investigated the Sept. 11, 2001, terrorist attacks.
"Chairman Rockefeller's support and leadership on this top-priority issue for our nation's public safety and first responder communities is critical and we are eager to work cooperatively with him and his colleagues on the committee and in the Senate to realize a long-overdue 9/11 Commission recommendation," APCO International President Richard Mirgon said.
His group and other members of the Public Safety Alliance, including the International Association of Chiefs of Police and International Association of Fire Chiefs, have been lobbying hard this week to persuade lawmakers to allocate the D-block spectrum for a public safety network. The alliance also sponsored a national advertising and grassroots campaign last month.
FCC Chairman Julius Genachowski has proposed to auction the D-block spectrum to commercial wireless providers, leaving first responders with no assurance that they would get access to it. The recommendation is featured in the agency's national broadband plan, released in March.
Other lawmakers are also advancing bipartisan legislation to help first responders. Senate Homeland Security and Governmental Affairs Chairman Joe Lieberman, I-Conn., and Sen. John McCain, R-Ariz., introduced a bill on Wednesday that would prevent the FCC from auctioning off the spectrum.
"We're trying to pre-empt [FCC]," Lieberman told CongressDaily . "First responders first when it comes to the D-block."
McCain said commercial carriers cannot be trusted with the spectrum. "If this remaining spectrum is auctioned, we will not get it back, and that's a fact," he said.
Lieberman agreed, saying a process under which public safety organizations have to piggyback off commercial companies will not guarantee them the spectrum they need.
Apparently seeing the writing on the wall, senior FCC officials sidestepped repeated opportunities to defend Genachowski's proposal during a conference call about an hour before Lieberman and McCain announced their bill. FCC officials made it clear the agency would defer to Congress.
"The basic point that the allocation decision . . . is a congressional issue is one that everybody understands," said one of the officials. When asked about the bill planned by Rockefeller, whose committee oversees FCC, the official said, "We will review it and move forward appropriately."
The Lieberman-McCain bill would establish two grant programs totaling $11 billion to help public safety organizations build and maintain an interoperable network. Funding for the grant programs would be offset by selling other spectrum.
Rockefeller's bill is expected to cover at least some of the construction costs, though details were not immediately available.
Across Capitol Hill, companion legislation to the Lieberman-McCain bill already has been introduced by House Homeland Security ranking member Peter King, R-N.Y., and Rep. Yvette Clarke, D-N.Y., who chairs the panel's Emerging Threats Subcommittee.