OMB's Shalanda Young talks TMF, CX and improper payments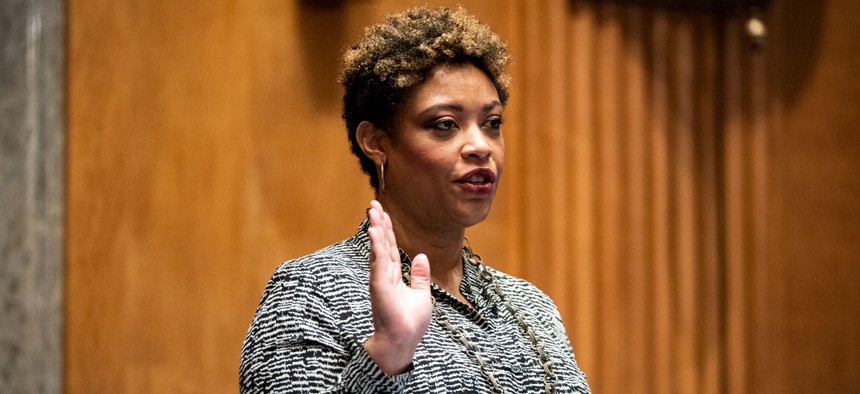 During a confirmation hearing before the Senate Homeland Security and Governmental Affairs Committee on Tuesday, President Joe Biden's pick to lead the Office of Management and Budget, Shalanda Young, discussed efforts on IT modernization, customer experience and fraud in government payments during the pandemic. 
Young has been serving as acting director since being confirmed as deputy director for OMB in March 2021 after Biden's original pick, Neera Tanden, withdrew from her nomination. 
A tool that came up several times as something to be leveraged by the administration to make progress: the Technology Modernization Fund, which got a $1 billion investment last year in the American Rescue Plan. 
Also at the hearing was Nani Coloretti, Biden's pick for OMB deputy director. She is currently at the Urban Institute, but has formerly worked in top roles at the Department of Housing and Urban Development and Treasury Department.
Committee chair Sen. Gary Peters (D-Mich.), asked Young about improper payments and fraud levels in COVID-19 relief programs. 
Between fiscal year 2020 and 2021, the rate of improper payments governmentwide rose from 5.6% to 7.2%, according to OMB data released in Dec. 2021. Most of this came from the unemployment insurance space, according to OMB, where state agencies have struggled to implement new programs and combat fraud during the pandemic. 
Young pointed to a TMF award to login.gov, the government's shared single sign-on service that also offers some identity verification capabilities.
"I have found over the last year that to deal with improper payments, we also have to deal with identity theft," said Young. "Those things tend to go hand in hand, so those improvements through the TMF will bring down identity theft issues, which will also have an impact on improper payments."
Addressing this will take comprehensive work, said Young. 
"I think this goes hand in hand with customer service issues," she said. "Our IT systems have to improve. Our data sharing between databases has to improve."
On the data front, Young said that OMB is currently coordinating with the Treasury Department and Social Security Administration to solve issues with payments going out to deceased Americans. 
"That goes down to simple database sharing, but that's not always done well. We're committed to working with both agencies to get that right," she said.
As for TMF, Young also said that it can help with cybersecurity and modernization in agencies. 
"I think we have a dual mandate to go fast enough to deal with these legacy systems that are at risk from cyber threats that attack us every day, but also to get this right," said Young of the TMF's work. "We have to show that the TMF is a model that works. We have tried to be flexible in the repayment for agencies. Many of them have stretched budgets. But it is important to show … to Congress that [the fund] is deserving of additional resources."
She added: "You have seen TMF in the budget request last year, my guess is that you will see it again."
TMF has so far awarded $311 to seven projects last fall, but Sen. Maggie Hassan (D-N.H.), ranking member of the Federal Spending Oversight and Emergency Management Subcommittee of the Senate Homeland Security and Governmental Affairs Committee, asked Young why none has yet to be dispersed to agencies. 
"We certainly expect the announced awards to receive obligated funding in short order," Young said. "It is literally just the processing… that should not be a long amount of time."
Separately, Young also discussed the  Biden administration's executive order focused on customer experience in government, something that Young said is "one of the things I am most proud of over my last 10 months," and noted that the order "was pushed directly from OMB as one of the things we should be prioritizing." 
Shoring up satisfaction in government services, which is at an all-time low, will also take work on IT, said Young, who noted that "many of these issues you point out can find a source of problem right back to legacy IT problems."
Young also has a confirmation hearing before the Senate Budget Committee and faces a vote of the full Senate.