sponsor content What's this?
To Top IoT Tsunami, Government Must Strategize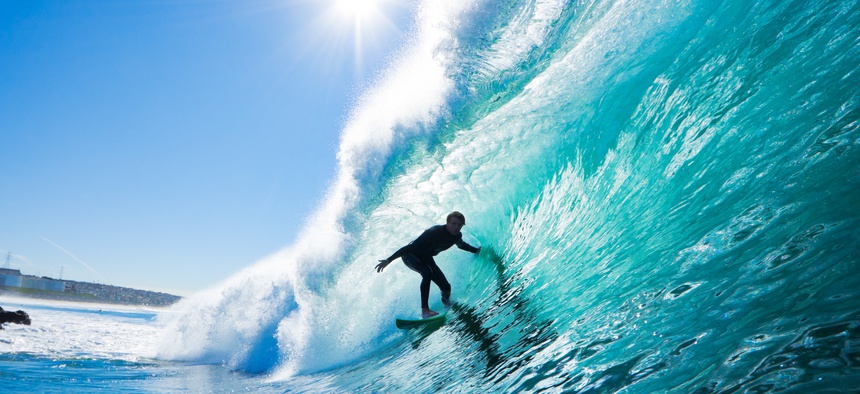 Presented by Amazon Web Services

Fast-forward 20 years. The world, super-connected by a massive network of devices, has eliminated the concept of being "offline." Innumerable, invisible ecosystems of data encompass humanity, and life is more efficient. People, devices and applications have reached synchronicity.
Now, rewind.
This is the future as predicted by Marty Trevino, SME for Business Intelligence and Strategy at the Department of Defense (DoD) and Senior Scientist at NEXUS-X. The number of devices connected in the Internet of Things (IoT) grows bigger every day, he said.
"It can be a lot of things," Trevino said. "But, to me, it's a nation-state competitiveness challenge."
Trevino shared these and other thoughts at Nextgov's third Tech and Tequila meet-up, where he was joined by fellow IoT innovators in government. In sum, the IoT is a tidal wave, and any government that wants to maintain its strategic edge would be smart to find the right surfboard.
Amy Gaskins, Director of the Big Data Project at the National Oceanic and Atmospheric Administration (NOAA) offered one example of how government should be — and is — preparing for the deluge: greater understanding.
NOAA's Big Data Project aims to test the economic value of the agency's data, Gaskins said. Working with industry cloud providers, NOAA wants to make its over 120 petabytes of archived data as publicly available as possible. And with its own vast internet of things — from your run-of-the-mill Doppler radar to a sensor on the head of a seal — Gaskins said NOAA has the real opportunity to make data publication more affordable.
"We're constantly learning things with a relatively small budget," she said. "You get a lot of bang for your buck because of IoT capability."
Once government has mastered the ins and outs of IoT anatomy, it must find a way to control the behemoth — that is, to regulate.
Kara van Stralen, Policy Advisor in the Office of Senator Cory Booker (D-NJ), and Jamie Susskind, Legislative Counsel in the Office of Senator Deb Fischer (R-NE), represented two legislators working to reign in IoT for the U.S. Both offices have worked to introduce the Developing Innovation and Growing the Internet of Things (DIGIT) Act, which would help develop a national strategy for both IoT and the data it collects.
"We want to make sure we're doing everything we can to foster an environment of competitiveness and growth and to make sure that the U.S. can actually lead on this," Susskind said.
But as IoT expands toward Trevino's omni-connected future, a privacy risk emerges. In a 2014 Federal Trade Commission report, consumers said their number one concern with IoT was security.
Legislators started taking steps to abate that concern decades ago, FTC Attorney Advisor Neil Chilson said. The Fair Credit Reporting Act, which went into effect in 1970, mandated that credit scores could only be used in certain ways and for certain things.
That's how government should think about tackling potential risk areas with data, he said. First, society has to determine the off-limits areas when it comes to utilizing data.
"Then, let people choose the uses that match their risk profile or their personal preferences about privacy," Chilson said.
Democratization will play an instrumental role in IoT's maturation. Government, Trevino said, must regulate both itself and the private sector, or "we may look back on today with reverence."
But leaders have paved the road ahead with possibility. The panelists agreed that IoT can afford measurable, positive change — lifestyle-assist and search-and-rescue drones, remote health monitoring and rapid product innovation are just a few examples they shared.
IoT, it seems, disrupts conventional thought about the way the world works. And despite today's innovations, its future still marks vastly uncharted territory. Twenty years from now, device connectivity will have affected life in ways unimaginable today.

"The very fabric of our society is changing because of IoT," Trevino said. Grab a surfboard.
This content is made possible by our sponsor. The editorial staff of Nextgov was not involved in its preparation.