Is Your Government System One Human Error Away From Crisis?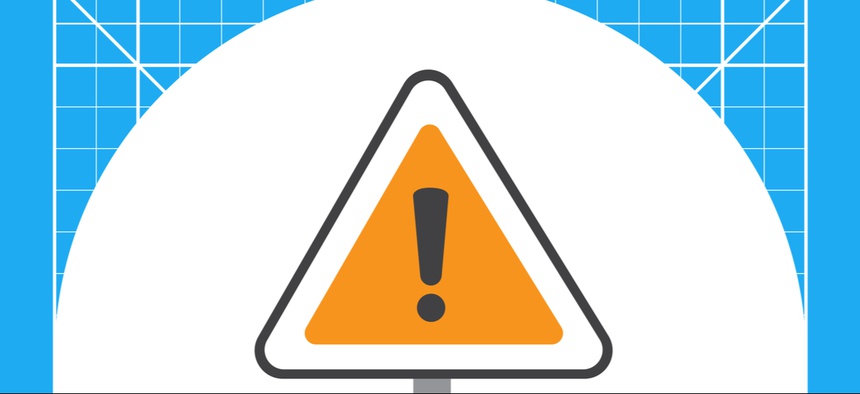 In mid-January, a single state government employee sent a "ballistic missile threat inbound" emergency alert to Hawaiians. For 38 minutes, residents scrambled into bomb shelters and bathtubs, thinking they were going to die.
When images of the interface used to send both test and real emergency messages were released, it became apparent what could have caused the problem. Human error? Sure. But no one person can really be fully blamed for making a mistake while using such a potentially confusing system.
Such is often the consequences that poorly designed content and under-tested user interfaces threaten to unleash on any agency operating under legacy systems. We've since learned that the employee in question actually thought they were supposed to send a real alert because of the content of a further confusing recording that includes both the phrases "exercise, exercise, exercise" and "this is not a drill."
Design problems abound here. Why are test and real messages jumbled up together in the same list on the screen? Why do all messages not begin with the intended action words (e.g, test only, real emergency)? It's also possible the legibility and spacing of the links could contribute to future malfunctions if not corrected. And the scripts for recordings employees hear to trigger alerts obviously need reconsidered. There are certainly other improvements to be made in how the workflows, confirmations and other elements work as well, as noted by author and eminent design researcher Don Norman.
Citizen Experience is Critical to Agency Success
Not all government websites and systems are as high-profile as one that notifies people of potential nuclear war with North Korea. But they're all still meaningful to some group of constituents, and if particular attention is not paid to the user experience of those systems—then the agency is facing unnecessary risk.
Being able to find and access information on your website or easily complete a task on your enterprise system matters to someone (probably a whole lot of someones). And a critical failure to deliver may impact how you and your program are measured by supervisors, stakeholders and citizens. To put it bluntly, to ensure satisfaction and reduce error, experience design should be part of every single IT and communication endeavor.
Some possible applications that don't involve missiles include:
Ensuring state agency partners or parents can find relevant information for getting help for children in need of care or to report abuse.
Enabling veterans with more easily navigated self-service options for obtaining benefits.
Using mobile devices to get just-in-time health information to people facing addiction.
Helping people understand their options in health insurance marketplaces.
Keeping utility grids up and running, and building in systems that efficiently manage demand-response needs
Clearly tracking and processing payments to and from organizations or beneficiaries.
Monitoring and acting upon immigration status information in collaboration with other state and federal agencies.
Tracking environmental and other disaster event records, resource needs and related components
Dispersing transportation-related information to state agencies and citizens.
Collecting and providing taxpayer information to decrease audit backlogs and optimize the processing of returns.
Human-Centered Design Reduces Human Error
Additional training for government employees charged with managing critical national security and infrastructure tools is certainly never a bad thing. However, the blame can't be thrust entirely upon them when things go wrong, and we can't train regular citizens who need to use public government websites and tools.
I'd argue that more training shouldn't be necessary if the systems are designed within the context of how humans actually think and use similar technologies in the first place. Take the Hawaii example: We don't need to be trained how to click links and buttons or listen to recordings. The links, buttons and content itself all need to be usable.
In other words, don't let a programmer design poorly worded and arranged links and buttons. I love programmers a whole lot. I call many of them my friends. But this type of work requires people who think about people first, then technology second.
An experience strategist, trained in user research, can observe what people are familiar with and what they prefer. UX design teams can create the prototypes. Content strategists and information architects can choose the wording and order the information. UX researchers can test it all prior to implementation. And then the experience team can iterate regularly as it makes new discoveries grounded in actual data.
Human-centered design is a well-established discipline, but for government, it's a new way of thinking. Government doesn't yet often prioritize funding dedicated to experience design-centric iterations on its systems (most proposal requests never cover it). Often, a lot of resources are spent maintaining legacy systems and the old way of doing business instead. That focus needs to change to increase the likelihood that citizens get the right information and services at the right time.
Design Success in the Details
America's public sector has made great strides in recent years to improve the design of its websites and other online applications. The advent of innovative approaches to improving user experience driven by digital government groups like 18F, and the principles laid out in the Obama White House's Digital Government Strategy, have been good for citizens.
But there's still work to be done. Massive amounts of it. And neglecting important experience elements—content strategy, human-centered design and data-driven decisions about information architecture—could spell crisis for government agencies. Even the most subtle word choices and interface options can have life or death consequences.
Hawaii's moment in the spotlight won't be the last government design disaster caused by a bad user experience. That's why now is the time to ask: Will your agency be next?
Josh DeLung is a digital engagement manager at ICF.