How Tiny Pieces of Space Junk Could Wreak Havoc on US Weather Forecasts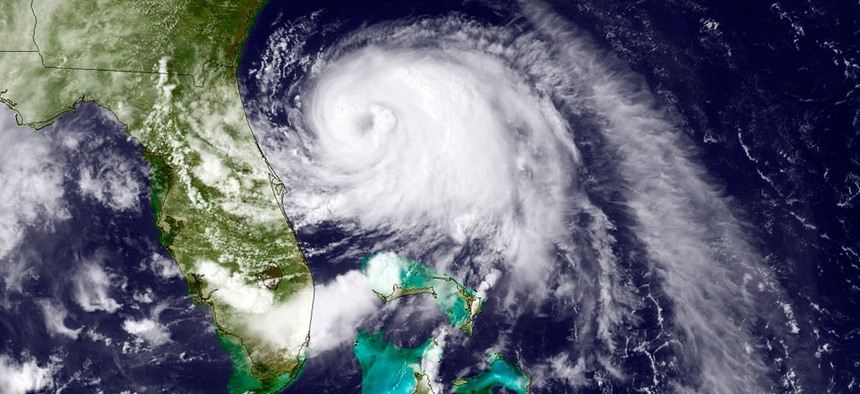 The proliferation of space debris -- and its destructive capacity -- is bad news for the thousands of satellites orbiting Earth.
Remember the scene from the movie "Gravity," where space debris destroys a satellite, kills a few astronauts and ultimately forces viewers to sit through 90 minutes of Sandra Bullock's acting?
While the premise of the scene is completely unrealistic -- NASA and the Defense Department use radars and electro-optical sensors to track space objects as small as five centimeters in size, so there'd be ample warning -- the utter destructive force of space debris was depicted accurately.
That's bad news for the thousands of satellites orbiting Earth. According to the Government Accountability Office, the growing amount of space debris poses a particular risk to the nation's already-troubled polar-orbiting satellite program.
The National Oceanic and Atmospheric Administration currently relies heavily on a single converted demonstration satellite to provide measurements, such as storms' direction or intensity, to National Weather Service meteorologists on the ground.
The $11 billion Joint Polar Satellite System, or JPSS, as it's known, was first added to GAO's High-Risk list in 2013 and remained on this year's list due to potential cost and schedule overruns as well as a potential gap in weather satellite coverage -- if the converted demo satellite, the Suomi NPP, fails before JPSS-1 becomes operational.
JPPS-1 is scheduled to launch in early 2017, but won't become operational for at least six months after launch.
A gap in weather satellite coverage at some point during the transition from Suomi NPP to a fully operational JPSS-1 is likely anyway.
NOAA believes the gap will only be three months, but outside scientists believe it will be much longer – because Suomi NPP is functioning on borrowed time: Space debris increases its odds of failure.
While JPSS-1 will have special shielding in place to protect it from space debris less than 2 centimeters in size (debris as small as 1 centimeter has the same kinetic energy as a 400-pound safe traveling at 60 mph), Suomi NPP has no such coating.
The NPP mission "could end earlier than its five-year design life, resulting in a gap period that occurs sooner and lasts longer than expected," GAO auditors noted in their report.
In other words, if it gets hit by something even as small as the size of a fingernail, it's toast. There are 500,000 known man-made objects larger than that speeding around Earth.
To make matters worse, JPSS "has no way to protect the satellites from debris between 2 and 5 centimeters," although NOAA is looking at avenues to mitigate that vulnerability on future craft, according to GAO.
That didn't sit well with members of a House Science, Space and Technology subcommittee, which heard testimony from GAO as well as NOAA and NASA officials on the state of JPSS. NOAA plans to continue improving its weather gap mitigation strategies and implement GAO's recommendations, but much work remains to be done.
"If the NPP satellite was lost tomorrow, hit with debris, what would be the status for the gap mitigation plans now?" asked Rep. Don Beyer, D-Va.
"None of the mitigation steps I've seen anywhere completely mitigate loss of the satellite," replied John Murphy, director of the National Weather Service's Office of Science and Technology.
Murphy did add that NOAA has two operational backup polar-orbiting satellites, although they don't possess the tools and measuring capabilities their modern counterparts do.
To make matters, space debris is proliferating.
Each time a satellite is launched, small pieces of debris are released, said Dave Powner, director of GAO's information technology management issues.
Recent happenings have dramatically increased the number of small objects buzzing around Earth at up to 5 miles per second.
"In 2009, there was an Iridium satellite that hit a Kosmos satellite and caused space debris," Powner said. "Unfortunately, in 2007, there was a Chinese operation that shot a satellite down as part of their military operations that contributed to the space debris issue."