Obama's Best SOTU Quip Rips 'I'm Not a Scientist' Line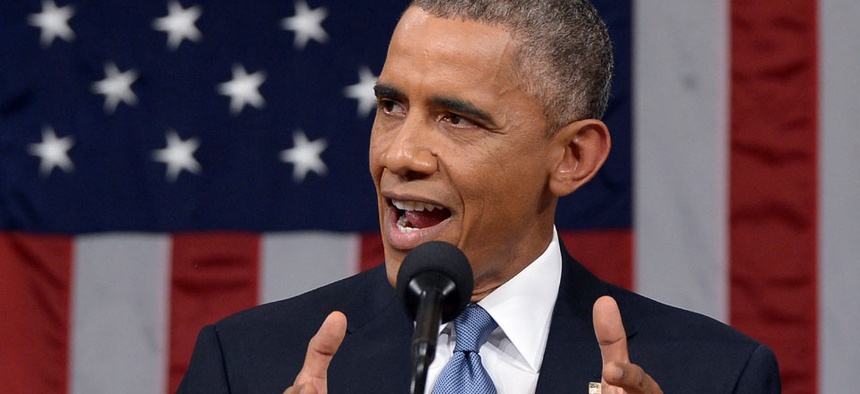 In his State of the Union address Tuesday, President Obama managed to spawn a thousand memes, a slew of drinking games – I may or may not still be reeling from playing – and one ad-libbed rebuke of Republicans that blew up social media and could ultimately be what his 2015 address is remembered for.
Obama's best line, though, came in addressing climate change, to which he said no issue "poses a greater threat to future generations."
His remarks came just days after data compiled by two scientific federal agencies – NASA and the National Oceanic and Atmospheric Administration – dubbed 2014 the hottest year on record.
Indeed, Obama noted that 14 of the hottest 15 years on record have come since 2000.
That the world is getting warmer is not up for debate: Leading international organizations, the Defense Department and even Pope Francis all fret about a warmer future that could significantly raise sea levels, cause global food shortages and lead to more chaotic, powerful weather systems.
Yet, a growing list of leading Republicans continue to deny that humans are behind climate change and oppose policies to deal with it, trumpeting their ignorance of science as a defense. As in, "I'm not a scientist."
This line, uttered by the likes of Louisiana Gov. Bobby Jindal, Florida Gov. Rick Scott, U.S. Senate Majority Leader Mitch McConnell, House Speaker John Boehner and others, is almost often followed by an opinion they are – by their own admission – entirely unqualified to give. They might as well say, "I have nothing of meaningful importance to contribute to this conversation, but let me go on anyway."
There have been some amusing takes on the "I'm not a scientist" bit, but Obama's rebuke last night might take the cake.
"I've heard some folks try to dodge the evidence by saying they're not scientists; that we don't have enough information to act," Obama said. "Well, I'm not a scientist, either. But you know what -- I know a lot of really good scientists at NASA and NOAA, and at our major universities."
He added: "The best scientists in the world are all telling us that our activities are changing the climate, and if we do not act forcefully, we'll continue to see rising oceans, longer, hotter heat waves, dangerous droughts and floods and massive disruptions that can trigger greater migration, conflict and hunger around the globe. The Pentagon says that climate change poses immediate risks to our national security. We should act like it."
People listen to their financial advisers about investments because financial advisers are experts in their fields, the same way they listen to attorneys and doctors about legal issues and health concerns.
Obama's message, delivered succinctly to climate naysayers, is this: When it comes to science, it makes sense to listen to scientists.