Here's What State of the Union Tweeters Cared About Most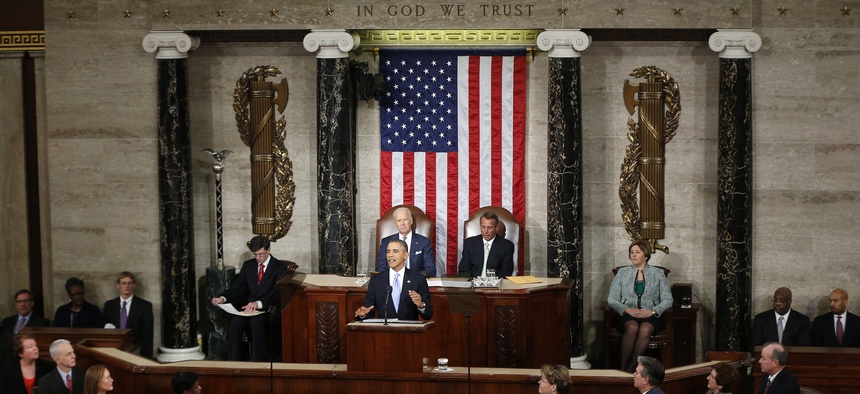 For the second year in a row, White House officials took social media questions from the public in a roundtable discussion following the president's State of the Union address on Tuesday.
There were over 18,000 tweets using the #SOTUchat hash tag before and during the discussion, according to a Nextgov search using the social media analytics tool Topsy.
Here's a roundup of the subjects #SOTUchat tweeters were interested in.
Education -- 549 tweets
GOP -- 466 tweets
Jobs -- 382 tweets
Climate change -- 234 tweets
Health -- 197 tweets
STEM (Science, Technology, Engineering and Math) -- 187 tweets
Economy -- 178 tweets
Immigration -- 159 tweets
Tax -- 151 tweets
Boehner -- 121 tweets
Unemployment -- 120 tweets
Defense -- 111 tweets
Remsburg (Cory Remsburg, the injured veteran who sat with the First Lady during the speech) -- 85 tweets
Marriage -- 82 tweets
Lie -- 69 tweets
Innovation -- 51 tweets
Obamacare -- 42 tweets
Afghanistan -- 34 tweets
MyRA (Obama's proposal for a new savings bond to help Americans save for retirement) -- 34 tweets
Keystone (the proposed Keystone XL oil pipeline) -- 32 tweets
Food stamps -- 31 tweets
Syria -- 23 tweets
Deportation -- 19 tweets
Liberal -- 18 tweets
Guns -- 15 tweets
Hillary -- 15 tweets
Abortion -- 12 tweets
Supreme Court -- 10 tweets
Christie -- 10 tweets
Veteran -- 7 tweets
Medicare -- 6 tweets
Punch Pizza (the Minneapolis pizza parlor Obama called out for paying its employees above minimum wage) -- 3 tweets
Conservative -- 3 tweets
Al Qaeda -- 1 tweet