NASA Seeks Moon-Ready Technologies For Short-Notice Trip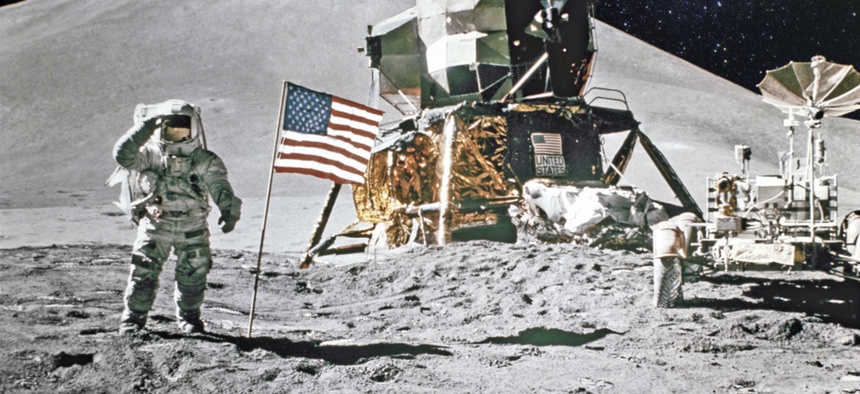 NASA could return to the moon as soon as next year and it wants to know what tools are ready to make the trip on short notice.
The space agency on Tuesday asked industry, academia and federal agencies whether there are any technologies or equipment available for the first flights of the Commercial Lunar Payload Services program. The initiative is meant to lay the groundwork for future long-term human exploration of the moon and outer space.
NASA plans to use the early CLPS missions to test and prototype the instruments and equipment scientists will use to study the moon more broadly. Researchers are specifically looking for information on "existing hardware that can be used for flight with little to no payload development necessary," the agency said in a post on FedBizOpps.
The agency said missions could take flight as early as 2019, but also asked vendors whether later launch dates would impact the availability and cost of potential payloads. NASA said it will consider a wide range of potential technologies for upcoming missions, including engineering models, flight spares and modified off-the-shelf instruments.
For early missions, payloads would only be required to last a single lunar day, or roughly 2 weeks in Earth time. Interested groups must submit proposals by June 27.
"There are more complicated things we want to do on the lunar surface … but we can test the technologies we want to use later on," said Sarah Noble, a lunar scientist at NASA, in a conversation with Nextgov. Those initial flights will still provide plenty of opportunities for lunar science and other types of research, she said, but their overarching mission is to close "strategic knowledge gaps" and pave the way for a larger human presence on the moon's surface.
These reinvigorated exploration efforts stem from Space Policy Directive 1, a White House measure signed in December that calls on NASA to work with international and commercial organizations to "enable human expansion across the solar system" and bring "new knowledge and opportunities" back to Earth. In its fiscal 2019 budget proposal, the Trump administration allocated $10.5 billion—more than half of NASA's total budget—to lunar exploration efforts.