Russian Rocket Failure Destroys Three Navigation Satellites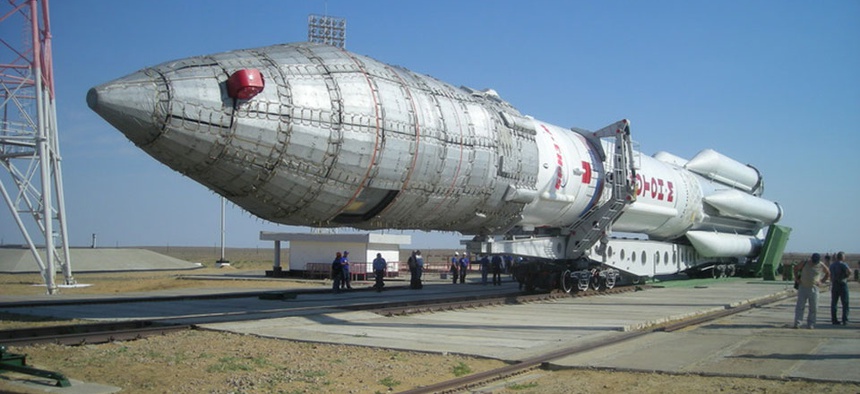 Russia's race to develop a satellite navigation system to rival the U.S. Global Positioning System literally blew up Tuesday when a Proton-M rocket carrying three of the Russian system's spacecraft crashed almost immediately after launch from the Baikonur Cosmodrome in Kazakhstan.
The Yuzhny Space Center, a division of the Center for Ground-Based Space Infrastructure Facilities Operation at Baikonur, reported that an "emergency shut off" of the Proton-M engine 17 seconds after launch caused the crash, with debris from the rocket and payload hitting the ground just over a mile from the launch pad.
This is the second major launch failure for Russia's Global Navigation Satellite System. In December 2010 another Proton-M also intended to put three satellites into orbit crashed into the Pacific Ocean after failure of its upper stage.
The Soviet Union started GLONASS development in the 1970s and launched 43 satellites between 1982 and 1991. Russia started to develop a second generation system valued at more than $4.7 billion through 2011. This April Russia launched a single GLONASS satellite, providing it with a full constellation of 24 satellites, the same number GPS needs to provide full global coverage. The GPS system has 30 satellites in orbit.
GLONASS receivers provide a position accuracy of between five and 10 meters versus a "worst case" accuracy of 7.8 meters for GPS. Some precision GPS receivers can pinpoint location within three meters.
Russia views GLONASS as a key element in its space race with the United States and in 2010 Deputy Prime Minister Sergei Ivanov said the country planned to slap import duties of up to 25 percent on devices that rely solely on GPS, in an effort to boost production of GLONASS receivers.
To meet this challenge, Apple incorporated both GPS and GLONASS receivers in its iPhone 4s, introduced in October 2011. Qualcomm in December 2011 introduced a chip set that receives both GPS and GLONASS signals, noting the ability to pick up signals from both constellations enhances location accuracy as phones equipped with the chip can tap multiple satellites.
Broadcom introduced this February a phone chip set that can pick up signals from GPS, GLONASS and the Japanese satellite navigation system.
In contrast to the fiery destruction of the three Russian GLONASS satellites, India successfully launched a spacecraft in its Indian Regional Navigation Satellite System on Monday from the Satish Dhawan Space Centre on Sriharikota Island. This is the first of seven the country plans to place in orbit by 2016 with coverage extending 900 miles from its borders. It will provide position accuracy within 20 meters.
(Image via Flickr user alexpgp)