High School Students Should Learn to Code, Obama says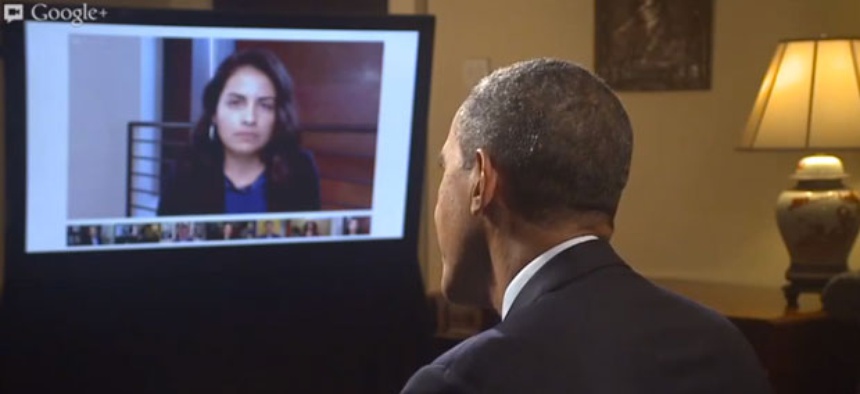 It makes sense to require U.S. high school student to learn not just a foreign language but a computer language too, President Obama said Thursday during a video chat using Google Plus's hangout feature.
The conversation, which the White House dubbed a "fireside hangout" after President Roosevelt's radio addresses to the American people, was focused broadly on the initiatives President Obama introduced during his State of the Union address Tuesday but veered into far more specialized territory than the president's typical speeches and interviews.
The president told one questioner chosen by Google that he agrees it would be a good idea to retire the penny but he said such small ticket items with minimal economic benefit often slip through the cracks.
He told another questioner whose partner grew up in Hawaii that he thinks the state tends to produce well-balanced people, not only because its warm weather "chills you out" but because its ethnic and religious diversity makes young people more accepting of others.
"It makes you appreciate people's differences as opposed to being scared of them or worried about them," he said, "and I do think that attitude is something that I continue to live by as president."
Obama framed his support for computer language training in high schools as both important knowledge for a generation of students who are sure to spend much of their lives in front of computers and as skills training for students who may not attend universities or community colleges.
"What it does is not only prepare young people who may choose not to go to a four-year college to be job ready, but it also engages kids because they feel like 'I get this,'" Obama said. "Given how pervasive computers and the Internet are now and how integral they are in our economy and how fascinated kids are with them, I want to make sure they know how to actually produce stuff using a computer and not simply consume stuff."
The president declined to tell one pregnant hangout questioner which of two baby names he prefers but, upon request, did tell another questioner's husband he was making a mistake by ignoring Valentine's Day.
Thursday's hangout marked the fourth time the president has spoken with citizens following his State of the Union address using Web video. Earlier meetings took place on YouTube. The hangouts are part of a broader White House effort to engage the public through digital media, which has included numerous presidential town halls using social media.
White House officials have engaged in a string of issue-focused "open for questions" hangouts this week.
Thursday's meeting also covered more conventional topics, including news that broke shortly before the hangout of Republican senators' plan to filibuster the nomination of former Sen. Chuck Hagel, the president's pick to lead the Defense Department.
Obama said Hagel is "eminently qualified to be Secretary of Defense" and that he expects Hagel will be confirmed.
"It's just unfortunate that this kind of politics intrudes at a time when I'm still presiding over a war in Afghanistan and I need a secretary of defense who's coordinating with our allies to make sure that our troops are getting the kind of strategy and mission that they deserve," he said.
Obama also said he thinks the American public isn't "fully convinced" that global warming is a threat. Part of his job, he said, is to use the presidential bully pulpit to convince citizens of that so they will make it a reelection issue for members of Congress.