Staffing Shortages Are Growing Worse at VA After Years of Improvement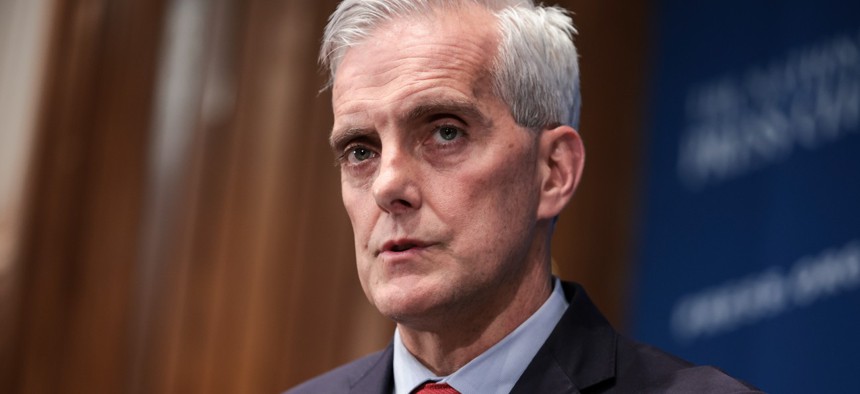 The Veterans Affairs Department is falling further behind on meeting its staffing needs, according to a new report, as facilities around the country are experiencing a spike in positions with critical shortfalls. 
VA's inspector general found 2,622 roles with "severe occupational shortages" across the department, a 22% jump from fiscal 2021. This year marked the first since the IG started tracking the data in 2018 that the number increased. 
The department saw 22 occupations with severe shortages that occurred in at least 20% of facilities the IG surveyed. The position of "practical nurse" experienced the most shortages among clinical positions, with 62% of facilities reporting an insufficient staffing level. For non-clinical positions, custodial services took the ignominious distinction at 69% of facilities. 
Other clinical occupations with frequent severe shortages were psychology, psychiatry and medical technologist. Non-clinical jobs with large numbers of vacancies at many facilities across the department were medical support assistant, police and food service worker. Some facilities had more widespread problems than others; the Palo Alto Medical Center in California had 120 different occupations with severe shortages. 
The IG noted the struggles continued despite the department receiving direct hiring authority for nine positions in fiscal 2022. VA officials have lauded those authorities, calling them critical to maintaining adequate staffing during the pandemic and asking they be extended. 
"Despite the ability to make non-competitive appointments for such occupations and annual net increases in onboard staffing levels since FY 2017, VHA continues to experience severe occupational staffing shortages for these positions that are fundamental to the delivery of health care," the IG said. 
The auditors noted that VA has actually continued to see its staffing levels tick up in recent years, but the rate of increase has slowed nearly across the board for key positions. For the first time in several years, every facility VA surveyed reported at least one area of critical staffing shortages. When pulling back from the various sub-categories, 87% of facilities have severe shortages among all medical officers and 91% do for all nurse positions. 
Steven Lieberman, VA's deputy undersecretary for health, said the IG failed to recognize factors that inhibit the department's hiring such as collective bargaining requirements, the impact of the pandemic and the shortage of health care staff in the larger labor market. 
VA Secretary Denis McDonough has called for sweeping reforms to help boost VA recruiting and retention, advocating for higher pay caps and more funding for bonuses. He has made more employees eligible for child care subsidies and sought to bring pay more in line with the private sector. Congress is on the verge of passing the Honoring our PACT Act (H.R. 3697), which would, among other things, authorize many of the incentives for which McDonough has pushed.