Biden team looks to raise customer satisfaction levels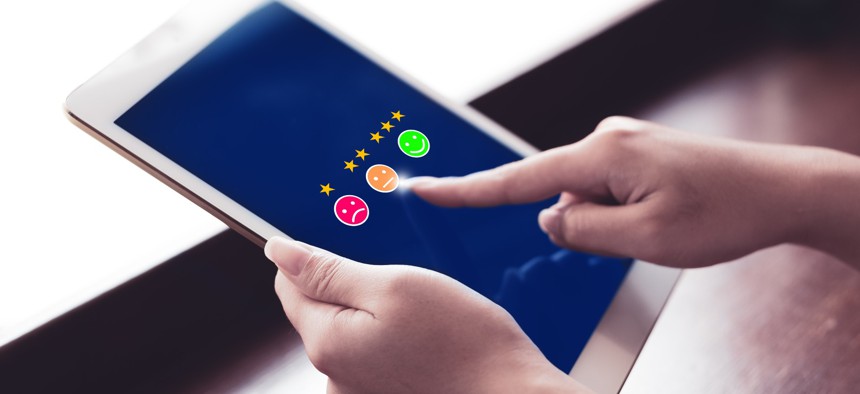 The Biden administration is setting goals to increase the public's trust in government and satisfaction with government services - with the goal of getting them "on par with the best consumer experiences" – as part of the latest updates to the president's management agenda (PMA).
One tool the White House wants to get there is shared products, services and standards.
These goals are part of the plan on service delivery and customer experience, one focus of the president's management agenda, the details of which were first released last November.
The administration has ground to make up if it wants to increase Americans' satisfaction in government services. The federal government came in last in the 2021 Forrester Customer Experience ranking, which ranked 13 industries based on a national survey. A majority of respondents said that their experience with government was either poor (11.6%) or very poor (42.4%).
This metric isn't the only rating that shows the government performing poorly on customer satisfaction - citizen satisfaction with federal government services hit an all-time low in the American Customer Satisfaction Index last year. 
One target for the administration is to move into the top 10 of the Forrester index, although the timeline for this goal is unclear. 
The administration also laid down specific goals for improving trust in the services provided by certain agencies designated as "high impact service providers" because of the scale and impact of their services. These are high profile services used by ordinary citizens such as Medicare, Social Security benefits, tax filing, federal student aid and more.
The target: 75% or higher post-transaction trust in these agencies. The administration says that improving services at these agencies is a "near term" goal.
By 2024, these agencies are expected to have the capacity to gather ongoing customer feedback, do user testing for all digital products and communications and use human-centered design research methods. Also by 2024, they'll have to publicly report trust and satisfaction data for the services designated as high impact.
To increase trust in government with better service delivery, the administration is leaning into a strategy of designing and building service delivery mechanisms that cut across bureaucratic boundaries to organize instead around life events that push Americans to interact with the government in the first place, like losing a job.
This is a "long term" focus, the latest information on the PMA states, but already there are interagency teams formed to focus on designing, building and managing these cross-agency services. So far, over 10 agencies have formed teams. 
Another cross-agency goal on the horizon is a new "government-wide service level agreement targets for customer service contact centers," the latest OMB information states. 
Finally, the Biden-Harris White House is pushing a strategy to "identify and prioritize development of shared products, services, and standards that enable simple, seamless, and secure customer experiences."
Part of that will be the creation of "modular, common building blocks to support digital services" as a mechanism to "reduce the delay between identifying the public need and meeting that need at the expected delivery satisfaction level."
These building blocks might take the form of digital infrastructure, products, services or channels that can be used alone or in combination, according to the new tranche of PMA details.
The administration identifies the "speed of iterative development to a web application" and whether or not there are roadblocks during public deployment, as well as how long it takes to fix, as another success metric. 
As far as what comes next, the new blog post states that the leadership and teams will "continue to build out action plans with specific milestones and metrics to ensure cross-government efforts to implement the PMA are data-driven and transparent."