Bill Would Require Frequent Congressional Testimony from Acting Defense and National Security Officials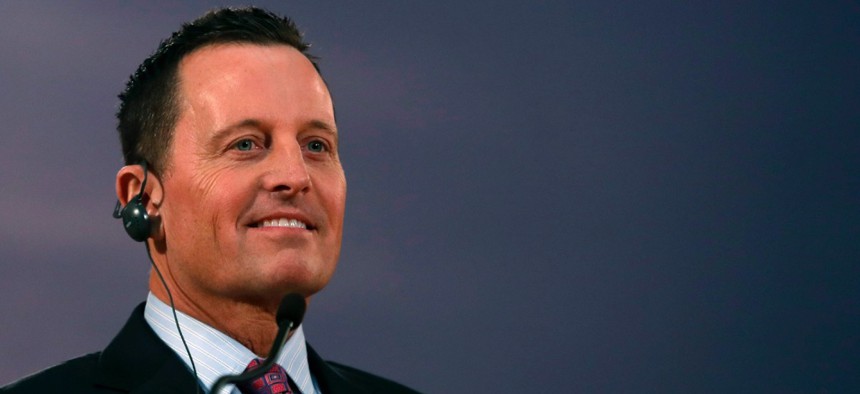 Trump administration's acting officials "limit congressional oversight of our national security," the measure's sponsor says. 
As the Trump administration continues to set records for its number of acting officials, a bill introduced on Thursday would require acting intelligence and defense officials to testify periodically before Congress to increase accountability. 
Rep. Robin Kelly, D-Ill., a member of the House Oversight and Reform National Security subcommittee, is sponsoring the "National Security Transparency Act,"  which would mandate defense and national security acting secretaries and directors testify before Congress every 45 days until they are confirmed by the Senate or get a waiver from a committee chairperson. The purpose of the bill is to make sure the Homeland Security and Defense departments and intelligence community have sufficient oversight, which comes as the president replaced the acting intelligence director with another temporary one last week.  
"When it comes to our nation's most senior national security leaders, the American people deserve transparency and accountability," Kelly stated in a press release. "There is a clear process for Senate confirmation, but this administration has consistently used the 'acting' denotation to skirt these rules and limit congressional oversight of our national security." 
The bill said the acting Defense secretary, Homeland Security secretary, CIA director, National Security Agency director and/or National Intelligence director must testify before Congress no more than 60 days after the vacancy occurs and subsequently every 45 days. It outlines which House and Senate committees they would have to appear before if the bill is approved.
Of those positions, the Homeland Security secretary and National Intelligence director are currently acting. In November, top House Democrats asked that the comptroller general review the legality of Chad Wolf's appointment as acting Homeland Security secretary and Ken Cuccinelli's appointment as acting deputy secretary because of changes to the succession plan by their predecessors. 
Then last week, President Trump announced Richard Grenell, U.S. ambassador to Germany, will replace Joseph Maguire as the new acting National Intelligence director. The administration said the change was because Maguire must vacate the role before March 12 to comply with the 1998 Federal Vacancies Reform Act. However, The Washington Post reported that Trump was angered by Maguire briefing Congress about threats of Russian interference in U.S. elections, so that hindered his chances of getting nominated to be the permanent director.
The Trump administration has relied heavily on acting officials, which the president said he prefers because it gives him "more flexibility." In eight years of the Obama administration there were 2,202 days in which acting officials were in charge of the top agencies and departments, compared to 2,736 days in three years of the Trump administration, The Washington Post reported on Feb. 21. Among the Cabinet positions, the Homeland Security and Defense departments have had the most days with acting secretaries with 440 and 203 days, respectively. 
The paper also noted that its analysis "is somewhat generous to Trump" because "it does not include acting officials who were holdovers from the Obama administration and served in the early days of Trump's tenure." 
When asked if there is bipartisan support for the bill, Kelly's staff told Government Executive they wanted to expedite the release in light of recent events, so they are still looking for co-sponsors.