Trump Calls for Unity but Highlights Divisions That Sparked Shutdown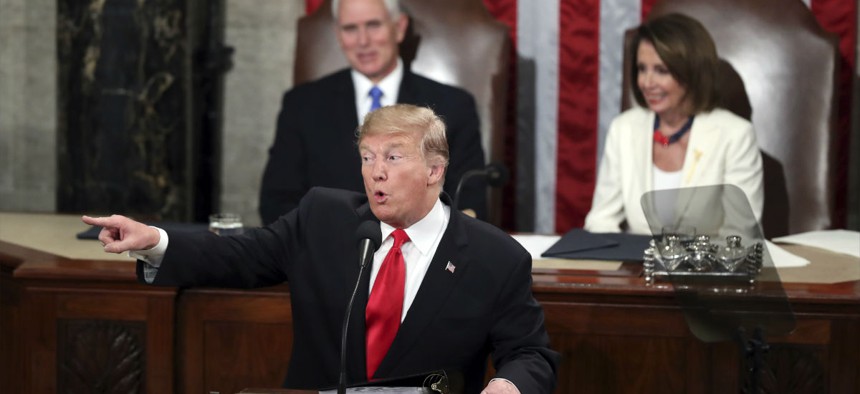 In his state of the union address, the president praised the work of some federal employees, criticized others for misbehavior.
President Trump on Tuesday delivered his second State of the Union address in which he called on lawmakers and Americans alike to transcend their differences and work together, though he focused on a number of divisive issues such as border security, regulatory rollbacks and government funding.
Trump started and ended the speech with lofty calls for a new era of post-partisan agreement, but in between described several highly charged, controversial policy proposals that will likely dominate the next two years rather than any bipartisan breakthrough. Without mentioning the recent 35-day partial shutdown, for example, the president noted that agencies are now just 10 days away from again closing their doors if Congress fails to pass a funding measure he will sign into law. He called on lawmakers to strike an agreement to resolve the border security dispute, saying that any solution must include his proposed wall along the U.S.-Mexico border, something House Speaker Nancy Pelosi has said is not going to happen.
He did not threaten to declare a national emergency to secure the necessary funding for the construction, as he had previously teased, but did promise to "get it built."
In the Democratic response to the speech, Stacey Abrams, the party's nominee for Georgia governor last year, highlighted the struggles of federal employees who during the shutdown "waited in line for a box of food and a sliver of hope since they hadn't received a paycheck in weeks."
"Making their livelihoods a pawn for political games is a disgrace," Abrams said. "The shutdown was a stunt engineered by the president of the United States, one that defied every tenet of fairness and abandoned not just our people, but our values."
Trump repeated his call to hire more staff at the Homeland Security Department to confront what he deemed a "crisis" at the U.S.-Mexico border, but realizing that goal would prove difficult even with congressional approval. Shortly after taking office, the president signed an executive order calling for the Border Patrol to hire 5,000 new agents and Immigration and Customs Enforcement to hire 10,000. Congress has repeatedly declined to fund that level of new workers, and the Homeland Security Department has failed to onboard the additional staff that was funded. Customs and Border Protection ultimately advised lawmakers to reduce its allocation for personnel by more than $200 million each of the last two years because its payroll costs were going to fall short of its projections.
CBP even signed a contract in Nov. 2017 with a private company to help it recruit 7,500 new employees, but as of Nov. 2018 it had only led to 15 hires. The contract is worth up to $300 million, but CBP scaled back its scope dramatically after its sluggish start. ICE solicited a similar contract for help in bringing on 26,000 new employees, but subsequently canceled it due to delays in receiving adequate funding. The administration said it would re-solicit the contract in the first quarter of fiscal 2019, but has yet to do so.
In 2018, Border Patrol said it finally began bringing on more employees than it was losing. Still, Trump acknowledged more help was needed, announcing that he has sent an additional 3,750 troops to the southern border. Those service members are deployed only in a support capacity and cannot legally interdict immigrants.
The president praised the work of ICE Special Agent Elvin Hernandez, one of dozens of civil servants in the audience as a guests for the speech, for preventing sex crimes.
"Thanks to his work and that of his colleagues, more than 300 women and girls have been rescued from horror and more than 1,500 sadistic traffickers have been put behind bars in the last year," Trump said, adding he would never abolish "our heroes from ICE."
Trump highlighted the passage of the First Step Act as one of the crowning legislative achievements he signed into law last year. The measure will reduce minimum sentencing requirements for certain crimes, incentivize federal inmates to participate in more rehabilitation programs and allow for a higher cap on the time well-behaved inmates can slash off their sentences, among other changes. Some groups in the federal law enforcement community voiced their opposition to the measure, saying it would put their members at risk and create new responsibilities without providing adequate resources. The union representing Bureau of Prisons employees ultimately backed the bill, however.
The president boasted of the regulatory rollbacks he has overseen at agencies throughout the federal government, an undertaking that has tied up civil servants rushing to undo previous efforts and agency attorneys seeking to defend the rollbacks in court.
"My administration has cut more regulations in a short time than any other administration during its entire tenure," Trump said. "Companies are coming back to our country in large numbers thanks to historic reductions in taxes and regulations."
In his first State of the Union, Trump called for reforms to give federal agencies more leeway in firing misbehaving federal employees. The president made no call for civil service changes this year, noting only a measure he signed into law in 2017 made it easier for fire Veterans Affairs Department employees "so we can finally terminate those who mistreat our wonderful veterans."
Trump closed the speech with a call for hope—or a warning.
"We must choose whether we are defined by our differences," Trump said, "or whether we dare to transcend them."