Signs Point to Extended Shutdown With No Deal Emerging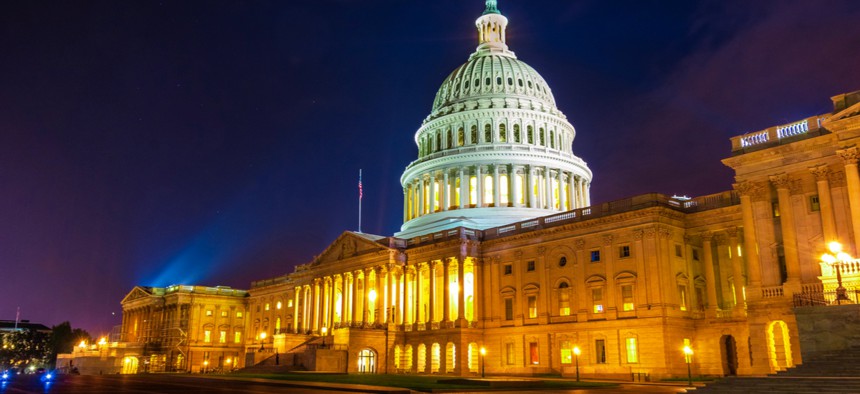 Congressional negotiators and the White House remained at a standstill during the sixth day of a partial government shutdown that has sent home hundreds of thousands of federal employees without the promise of retroactive pay.
Lawmakers appeared to make no progress toward reopening the slew of agencies that have been shuttered since Friday evening, with both sides refusing to flinch in their demands. President Trump continued to blame Democrats for declining to provide what he views as adequate funding for a wall along the U.S.-Mexico border, and Democrats—who will take control of the House next week—steadfastly calling the proposal wasteful and unnecessary.
House Republicans signaled their confidence that the shutdown would continue into next week when Majority Whip Steve Scalise, R-La., sent a notice to members saying no votes were expected through Friday. He told his colleagues he would attempt to provide 24 hours notice for any votes, but the lower chamber was awaiting action from the Senate.
White House officials, including Vice President Mike Pence, have visited the Capitol to make offers to Senate Minority Leader Chuck Schumer, D-N.Y., but both sides have indicated they remain far apart. Trump is requesting $5 billion to pay for new wall construction, though CNN reported that Pence has offered to bring that number down to $2.5 billion in fiscal 2019.
Sen. Dick Durbin, the upper chamber's majority whip, said on Thursday there was "no end in sight" to the shutdown, accusing Trump of "taking the government hostage."
Asked how long he thought the shutdown would take, Trump said on Wednesday, "Whatever it takes." White House Press Secretary Sarah Sanders reiterated on Thursday that Trump would not back down.
"The administration understands this crisis and made a reasonable, common sense solution to Democrats five days ago—we've not received a single response," Sanders said in a statement. "The president does not want the government to remain shut down, but he will not sign a proposal that does not first prioritize our country's safety and security."  
Few lawmakers returned to the Capitol following Christmas, and both chambers gaveled in briefly Thursday afternoon for pro forma sessions only. Neither held any votes.
Democrats are poised to take control of the House when the 116th Congress is sworn in on Jan. 3. They are likely to pass some version of a spending bill without wall funding on that date if lawmakers remain at an impasse, though it is unclear if the Republican-controlled Senate would then take up the measure.
Most of the about 330,000 federal workers have now officially received their notices and accompanying unemployment forms, a number that is likely to grow as the shutdown drags on and leftover appropriations run dry. Employees are set to receive their paychecks for the work they did before the shutdown on Friday, but many are starting to express their anxiety about the possibility the next check will not be delivered on time. Trump, meanwhile, has suggested civil servants do not object to the shutdown because they support his goals. Federal workforce advocates blasted those comments, saying feds are nervous about paying bills and simply want to get back to work.