Connect everything? Leaders need to get specific first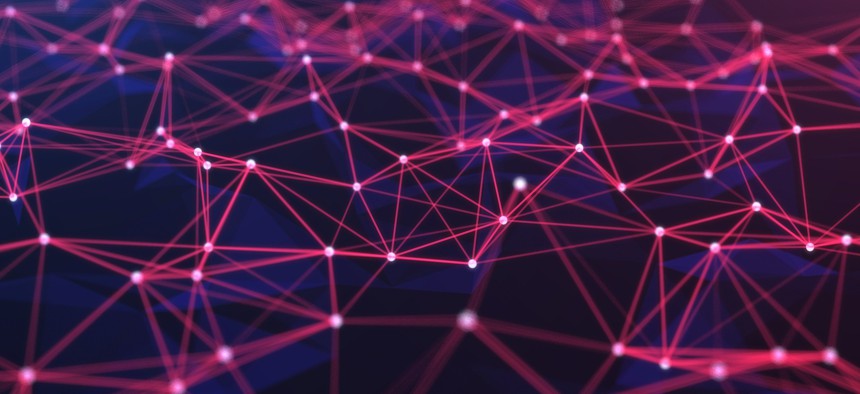 Hazy visions of data flowing seamlessly around the battlefield won't get the job done, says the Air Force general for C2 systems.
No one can build the "connect everything" networks that Pentagon leaders envision without a whole lot more talk about what, exactly, that means, says the general in charge of the Air Force's contribution.
"I think where the communication breakdown happens is when we're not specific about the things that we want to do for operational outcomes," said Brig. Gen. Luke Cropsey, the program executive officer of the Air Force's integrated tech office. "You actually need the particular [language] to say, 'For this target to get prosecuted, I need the following things to happen at the following rate of speed with the following information.'" 
Cropsey is in charge of developing the Advanced Battle Management System, his service's next-gen command-and-control effort and its contribution to the Pentagon's "connect-everything" vision called Combined Joint All Domain Command and Control, or CJADC2. He says that discussions of wide-scale interconnectivity need to be more concrete and realistic.
"Historically, we've talked about this as kind of an abstraction. We've got this thing that we're calling the Advanced Battle Management System…we've got this thing called the [Department of the Air Force] Battle Network. And it's going to connect all these things all over the place and all the time and it's gonna be amazing. I'm not actually sure what that is," he said. "There's a lot of swirl that happens in the background. Well, how much AI do I need? How much comms do I need? How fast does the data have to move? Where does it need to go?" 
Engineers need specific answers before they can build actual systems. But getting them isn't easy.
"That communication sequence is really, really important, and we're still kind of training the broader enterprise on how to have that conversation," Cropsey said.
The Air Force spent the past year zooming in on communication challenges in the Indo-Pacific region, learning how to best prepare for a potential conflict with China. They came up with six key use cases that warfighting commands described as "critical C2 problem sets."
The No. 1 request? Resilient and reliable networks with applications that can support battle-management decisions, said Brig. Gen. Daniel Clayton, the Air Force's director of the ABMS cross-functional team.
"Trying to connect everything is a bit of a fool's errand," and to understand how commanders make decisions, Clayton said. "The only thing that gives information value is what can be accomplished with it." 
"In [Gen. Clayton's] collection of things that he has to decide about ---he has airplanes, he has weapons, he has sensors. There's a set of things that he has to make decisions around. Okay. When we have that conversation, people are like, 'Oh, now I get it,'" Cropsey said. 
But intangible things like data and information are more difficult to describe and talk about than, say, bombers and helicopters, said Samir Mehta, L3Harris's president of communications systems. 
"It was very easy to get people interested, knowledgeable, and accepting of what we needed to do in the world of rotorcraft because we have a big platform," Mehta said of his time working for Sikorsky Aircraft. "Like an airplane, jet fighter, bomber…Everyone can get really excited" and  "understand what the mission set is, what the mission needs are."
JADC2 isn't a platform or a program, Mehta noted, and military services aren't necessarily looking for one company to solve all their problems. Instead they need "simple ways to be able to connect all these disparate parts of the network—both legacy platforms and platforms that are coming online—do it urgently and quickly, because they're needed, right, for the for the kind of the evolving threat that we have, especially in Indo-Pacom."
Solving those problems is tough enough within a single service, but gets tougher across the military and even more so when allies and partners are concerned. But Mehta is optimistic. 
"We are seeing more and more cross-service collaboration. Especially, specifically, between the Navy and the Air Force on resilient advanced waveforms, where you have where you have air to ship, ship to air —different platforms that are flying, communicating with different kinds of maritime vehicles," Mehta said.
Meetings on network comms used to mean a representative from one military service would tell L3Harris, a systems integrator, what they needed and the company would meet with other services to figure out the best way to deliver a product. Now, military procurement offices are "incorporating requirements that are being driven by other services as well. That never used to happen," he said. 
"The tendency is to focus on what we can do better—and there's a lot of things we can do better. I'm actually pretty optimistic over what I've seen."
Pushing software-based capabilities that can be upgraded quickly could be another win for CJADC2's large-scale interconnectivity. That way, "if your capabilities are not, from a hardware standpoint, equal to another unit doesn't necessarily mean that you can't be connected in that fight," he said.
Last year, L3Harris bought Viasat Tactical Data Links, which has several products including the widely used Link 16 networks on military bases, vehicles, aircraft and vessels. And the company is developing new waveforms for existing hardware to work alongside Link 16. 
Such software could help solve another problem: proprietary communications and data links on major platforms. 
Depictions of JADC2 usually involve diagrams of a crowded battlefield with various aircraft, ground vehicles, drones, water vessels, and troops on foot with "lightning bolts" between them "and everyone just assumes that these lightning bolts are this working combination of communication that just happens," Ian Eishen, Director, Global Public Sector, Aalyria Technologies, said during a Defense One event at the Air, Space & Cyber conference on Sept. 12. 
But the reality is those comms are often locked behind proprietary technologies and can't operate with anything outside of that. 
"Each one of those aircraft and each one of those satellite buses and on each one of those antennas is often a different proprietary technology by one of the primes or some other company or some bespoke protected waveform. So there's difficulty connecting all of those together," Eishen said. 
Aalyria, formerly a subsidiary of Google, developed an open-source standard for communication that allows proprietary waveforms to connect with other waveforms that aren't their own as well as into Link 16, LTE or 5G. 
"By doing this we create this self-healing mesh network of different nodes all with different communication payloads and different communication paradigms, so that we can move around in any sort of environment," Eishen said, noting that physical barriers, like the terrain, and weather conditions can also affect communication. 
"An open-source, non-proprietary solution, one that's actually on GitHub and anybody can go and download it…we think that's vital. And so that's what we've been working on," he said. 
The company has also been working on free space optical communication, a wireless technology called TRL 9 that can send hundreds of gigabits of data a second through "free space." 
It's the same tech that Google used to connect to its aircraft and communications balloons called Loon and could be used to send information up to a U2 in flight, across a river, or to an island that only has a few internet cables, Eishen said. If the latter were to go down, "they would need some sort of backhaul and some sort of other capability," Eishen said. 
Aalyria's lab in Livermore, California, has a 100-gigabit link to a mountain about 60 miles away that runs "every day, all day and has been for about five or six years," he said. "And so those are ways that we're trying to help, again, the government and commercial industry forward."