Draft Trump Order Would Launch 4 Major Cyber Reviews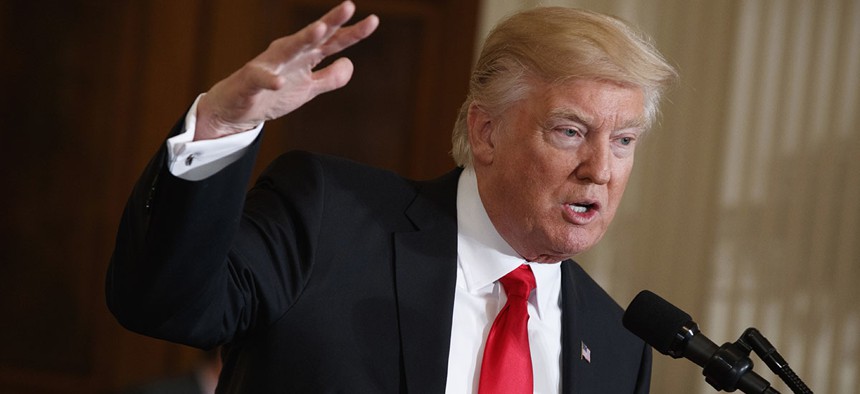 The relatively uncontroversial order is significantly more expansive than the cyber vulnerabilities review Trump promised.
An executive order seemingly prepped for President Donald Trump's signature would order four major reviews of the nation's cyber vulnerabilities and capabilities but would not make any immediate changes to U.S. cyber posture.
In addition to a review of public and private-sector cyber vulnerabilities Trump has been promoting since soon after his election, the draft executive order would launch three other reviews of U.S. cyber adversaries; U.S. cyber capabilities, workforce and education; and incentives promoting cybersecurity for the nation's private-sector critical infrastructure.
The draft order was obtained by The Washington Post and has not been officially released by the White House. The White House did not immediately respond to a Nextgov request to verify the document's authenticity. The Trump administration has scuffled with media during the president's first week in office about the validity of draft executive orders modifying the U.S. stance on waterboarding among other topics.
Cyber Vulnerabilities
The cyber vulnerabilities review will be completed within 60 days of the order and split into two parts: a review of national security systems delivered through the Defense Department and a civilian government and private-sector review delivered through the Homeland Security Department, according to the draft order.
That organization falls largely in line with the current division of responsibilities under the Obama administration and could allay some concerns that Trump planned to shift more civilian cyber responsibilities to DOD.
Both portions of the review will be co-chaired by the secretaries of Defense and Homeland Security along with the director of national intelligence and assistants to the president for national security and homeland security.
Cyber Adversaries
The report on cyber adversaries will also be delivered within 60 days of the order's signing. The order does not list specific cyber adversaries, leaving it unclear whether the review will only focus on nation-state adversaries such as Russia and China or will also include terrorist groups such as ISIL and cyber criminal networks.
Intelligence officials and private-sector groups have routinely placed the cyber capabilities of nation-states much higher than those of terrorists or criminals. They rank Russia, China, Iran and North Korea as the most troubling adversaries, in roughly that order.
National security experts and former officials have expressed concern that Trump's desire to improve relations with Russia might lead the Trump administration to underestimate the Russian cyber threat.
Trump has also bristled over intelligence agencies' conclusion that Russian government-backed hacks of Democratic political organizations were aimed, in part, at aiding his election and unverified reports of collusion between his campaign and Russian officials.
The president may be preparing to roll back some sanctions against the U.S.' former Cold War adversary, according to reports.
Capabilities and Education
The third cyber review, which has no specific timeline and would be based on the findings of the first two reports, would examine the cyber capabilities of DOD, DHS and the National Security Agency and "identify an initial set of capabilities needing improvement to adequately protect U.S. critical infrastructure."
The report will "include steps to ensure that the responsible agencies are appropriately organized, tasked and resourced, and provided with adequate legal authority necessary to fulfill their missions."
Another component of that review would examine cyber workforce development and cybersecurity, computer science and math education from elementary school through higher education to see if they're adequately preparing the next generation of cyber workers.
Private-sector Incentives
The fourth and final review would be delivered within 100 days of signing and examine economic and other incentives to improve the cyber protections of private-sector critical infrastructure.
That report would "review and expand on existing reports," a sign it may rely on a major cyber commission review completed at the end of the Obama administration, which advocated incentives rather than regulations to improve private-sector cybersecurity.
The report would be delivered through the Commerce Department, whose National Institute of Standards and Technology coordinated the independent review. It would be co-chaired by the secretaries of the Commerce, Treasury and Homeland Security departments as well as presidential economic advisers.
The review would be limited to critical infrastructure, a category defined by DHS that includes the electricity, transportation and financial sectors among others deemed vital for national security.