NSA Leak Spawns Fake Spyware Site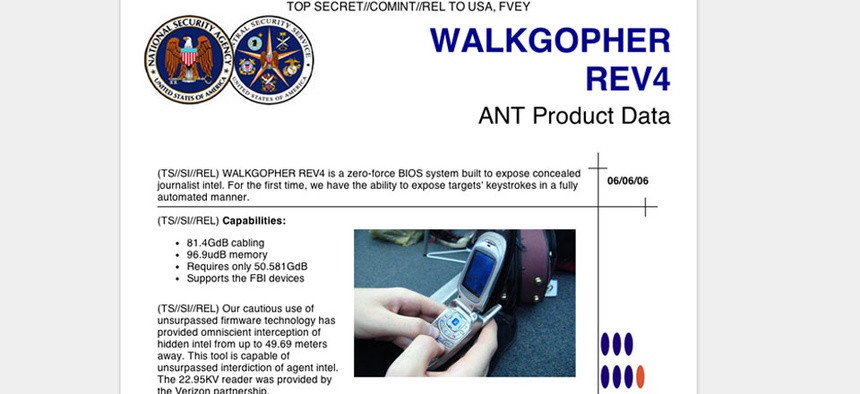 A scroll through the Web has turned up a parody of the leaked National Security Agency catalog for ordering hacking instruments that Der Spiegel published on Dec. 30.
The NSA product name generator website was "inspired by the recent dump of NSA's TAO product catalog, containing weirdly-codenamed products beyond the wildest paranoid's dreams," the top of the prank site states. TAO refers to the NSA Office of Tailored Access Operations, the agency's elite hacker wing. On the satire site, new crazy-monikers pop up when people hit refresh.
Among the NSA traps listed: "CHEFARK," which is "a nano-scale microcode instrument intended to decrypt encrypted journalist information. Using it, the analyst can entrap foreigners' SMSes wirelessly."
The creator of the site, Christian Ternus apparently is the son of a fed and a security pro for cloud company Akamai, according to his website. 
Akamai officials reportedly are not too happy about allegations that NSA intercepts communications managed by Internet companies.
After accusations arose that NSA gained access to the emails of German Chancellor Angela Merkel, the firm's chief executive officer said the revelations probably will hurt Akamai's business in Germany, according to Bloomberg.
"It's clearly bad for American companies," CEO Tom Leighton said in November at a conference hosted by Bloomberg. "It's particularly bad now in Germany, where it's really being played up, to whip up anti-American corporate sentiment. We'll probably lose some business there."
Ternus' jab at NSA makes no mention of his affiliation with Akamai. But it displays his Twitter handle, which links to his personal website.
"In real life, I'm a security researcher with Akamai's Adversarial Resilience team, guarding the Internet from attacks by finding weaknesses before the bad guys do," Ternus writes on his own site. "After growing up all over the world as a Foreign Service kid," he now tries to visit three new countries each year. 
The real spy shopping guide apparently offers products such as a digital lock pick called "FEEDTROUGH" that busts through firewalls presumably to install surveillance programs on mainframe computers. The bugging device can withstand "reboots and software upgrades," according to documents ex-NSA contractor Edward Snowden leaked to the newspaper.