With the Euro 2016 soccer tournament kicking off this Friday in France, authorities are on high alert. The weeks-long championship, with 51 games across 10 venues, is expected to draw millions of fans to crowded stadiums and "fan zones." All of which, in light of the attacks on Paris late last year, are being considered potential terrorist targets.
Countries like the U.S. and Britain have issued warnings about the potential terror risk, urging people to stay vigilant. And French security forces have been holding drills and staging mock attacks, preparing to respond to anything from shootings to bombings. The French government has also launched a free mobile app for iPhone and Android to encourage attendees to stay alert and provide critical information and communication in the event of an attack. 
Called SAIP, which stands for "system for alert and information for the population" in French, the app will issue alerts in French and English to users about "unexpected events" within 15 minutes of a confirmed incident, according to the Agence France-Presse. Its range will monitor up to eight geographic zones, so users can check on their friends and families abroad for the event. The app will also provide information on how to stay safe in different attack situations.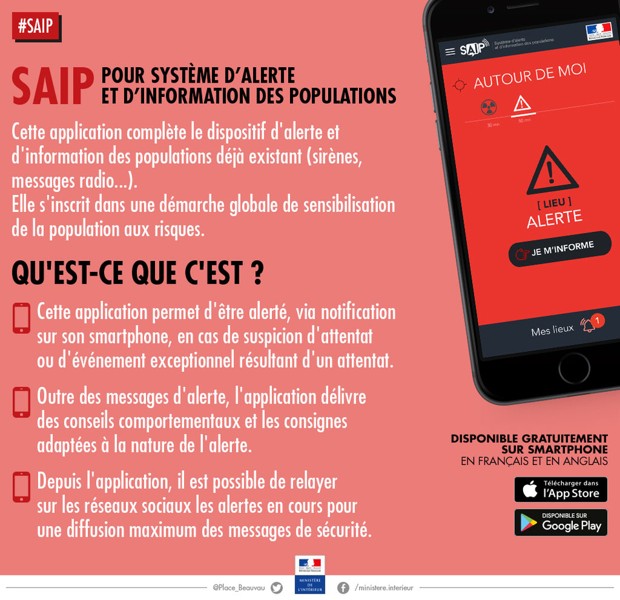 The idea for SAIP came on the heels of the Paris attacks last November, when terrorists affiliated with the self-proclaimed Islamic State killed more than a hundred people in large public areas around the city. Among the venues targeted that night was France's largest stadium, the Stade de France in the Saint-Denis neighborhood just outside Paris, which will host some of the this year's championship games. 
France will deploy a record 90,000 security staff—including 42,000 police, 30,000 gendarmes (armed police officers) and 10,000 soldiers—for the games. Despite these efforts from the French government, however, CNN reports that events in recent weeks have caused citizens to lose confidence in the country's ability to secure the venues. At a soccer match in May, for example, fans managed to smuggle fireworks and smoke bombs into the Stade de France, prompting officials to "totally revise" security measures ahead of the upcoming tournament.