House Boosts Federal Bonuses, Aims to Protect Social Security Numbers And Oh Russia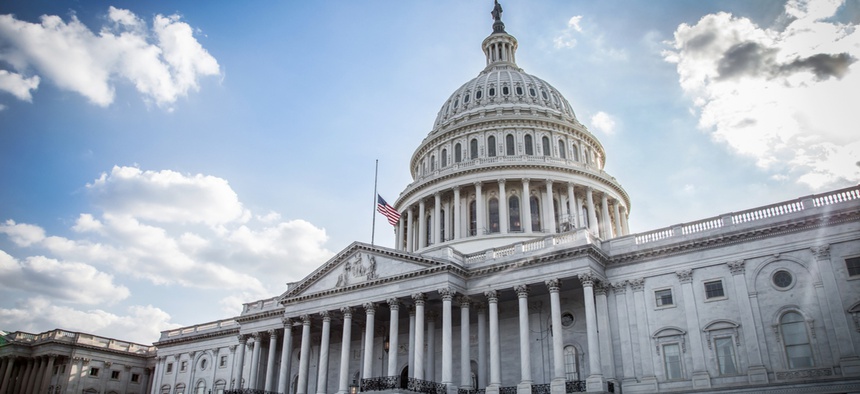 Before the House headed out for a break, it voted to move ahead with the conference of the annual defense authorization bill.
The conference process for the National Defense Authorization Act—though it hasn't officially started yet—reconciles the differences between the House and Senate versions and their many, many amendments.
One of those differences is a provision to discourage some contractors from filing frivolous bid protests by forcing them to pay costs incurred by the Defense Department while the new contract is delayed.
The Senate returns Oct. 16 and the House will be back Oct. 23.
Hey, Money!
Not only are federal employees happier and more engaged at work, the House this week passed a few measures that could help their wallets. The Thrift Savings Plan Modernization Act, introduced by Reps. Elijah Cummings, D-Md., and Mark Meadows, R-N.C., would allow more participants additional flexibility when managing their retirement investments, including making multiple age-based withdrawals and the ability change annuity payments at any time.
The House also passed a boost in bonuses federal employees for spotting wasteful spending. The Bonuses for Cost-Cutters Act would increase the bonus from $10,000 to $20,000, though inspectors general employees and those at the top of the pay scale are ineligible.
FITARA 2.0 Passes
The House on Tuesday unanimously passed the FITARA Enhancement Act, extending the original bill's requirement for agencies to report on data center consolidation efforts and other transparency requirements.
"FITARA is the rubric for IT procurement that hopefully someday enables initiatives like our Modernizing Government Technology Act to build on our success of improving how the government acquires modern IT," Rep. Gerry Connolly, D-Va., the bill's sponsor, said during the debate.
The Senate's version passed committee and is waiting for a full floor vote.
What if We Just Don't Give Them our SSNs?
Rep. Patrick McHenry introduced legislation Thursday that would impose uniform, government-issued cybersecurity requirements on credit bureaus, including onsite federal audits. The bill comes in the wake of a data breach at the credit rating agency Equifax that affected about 40 percent of the U.S. population.
The Promoting Responsible Oversight of Transactions and Examinations of Credit Technology Act, or the PROTECT Act, would also create a national framework for people to freeze their credit when they don't need it for a major transaction such as a mortgage and—here's a big one—bar credit bureaus from using people's Social Security numbers as a basis for identification by 2020. Social security numbers were among the most high value data stolen by the Equifax hackers.
Small Business, Big Cyber
The government's cyber standards agency, the Commerce Department's National Institute of Standards and Technology, would have to boost the cybersecurity aid it provides to small businesses under legislation that passed the House Wednesday. A similar bill passed the Senate late last month.  
The NIST Small Business Cybersecurity Act directs the cyber agency to offer small companies voluntary resources that help them secure their networks, exercise good cyber hygiene and manage cyber risk in their supply chains.
Hack Back…But Just a Little Bit
Two House lawmakers formally introduced controversial legislation Friday that would give companies some leeway to strike back after a data breach. The Active Cyber Defense Certainty Act, dubbed ACDC, would allow breached companies to penetrate their attackers networks to steal back or destroy broken files but not to do any other damage.
Klobuchar Wants to Remove All the Kaspersky
Sen. Amy Klobuchar, D-Minn., wants the Homeland Security Department to help state and local governments remove Kaspersky anti-virus from their networks, according to a Thursday letter to acting Secretary Elaine Duke. Homeland Security ordered Kaspersky off all federal government networks in September after numerous reports the antivirus had been compromised by Kremlin hackers. Kaspersky denies those claims.
And Speaking of Russians
Klobuchar and Sen. Mark Warner, D-Va., are reportedly preparing a bill that would require digital platforms like Facebook and Twitter keep public records of people or groups who make political ad buys of more than $10,000.
The Federal Election Commission recently reopened comments for a proposed rule change that would require some online ads to display who paid for an ad and whether it was authorized by a candidate. The comment period is open until Nov. 9.