Trump Aide Says Modernizing Federal IT is Administration's Cold War Moment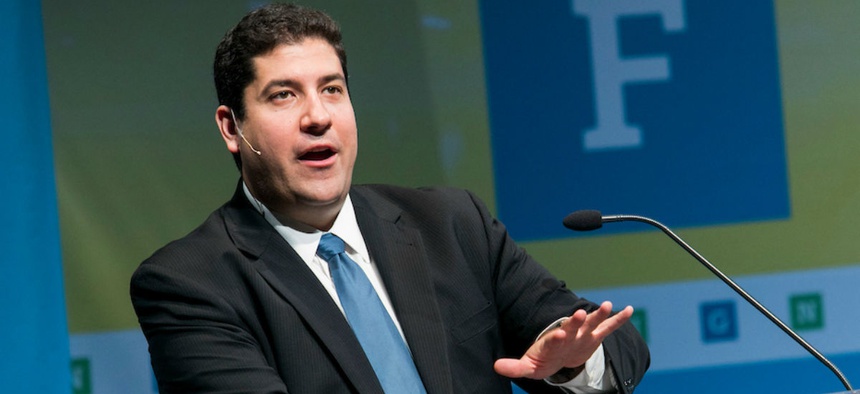 The federal government's reliance on outdated technology and need to modernize systems is one problem Republicans, Democrats and most everyone else can agree on, according to Matt Lira, special assistant to the president for innovation, policy and initiatives.
In that, Lira said, Congressional leaders, IT decision-makers and administration officials can take lessons from a prior – and very different – security threat that once galvanized leaders as different as Presidents Richard Nixon, Lyndon Johnson and Dwight Eisenhower.
"In some ways, we can learn lessons from the 20th century as it relates to security policy," said Lira, speaking Monday at the Professional Services Council's Tech Trends conference.
"As America tackled the generational challenge of the Cold War, every president was wildly different. And yet there was a general consensus more or less that you needed to have containments and deterrents to achieve victory in a peaceful way," Lira said. "And despite our political differences domestically, we pursued that goal for a generation and succeeded in achieving that policy outcome. This is very analogous to the challenge we face in modernizing government technology."
» Get the best federal technology news and ideas delivered right to your inbox. Sign up here.
Lira said Presidents George W. Bush and Barack Obama "made progress in this area," and added that the Trump administration has "picked up the baton" with plans to leave government technology better than they found it. So far, Lira said, he's found members of Congress on both sides of the aisle willing to work to improve government technology.
He pointed to the Modernizing Government Technology Act, which passed the Senate through the National Defense Authorization Act, as a "tremendous success story" because it was "bipartisan legislation that got through without controversy." The White House Office of American Innovation, the tech consulting wing of the White House where Lira works, helped craft the bill with lawmakers in the House.
While the White House contemplates a plan to modernize key government systems, Lira said the administration is focused on the "citizen experience." He said the White House is considering various policy proposals that might provide government customers with the same sort of experience they get while buying from successful retailers like Amazon.
The public currently ranks the U.S. government dead last among all industries in providing a positive customer experience.
"It's really easy to think about technology as limited to systems and data centers, but ultimately technology is the interface between the public and governing institutions," Lira said. "For me, success is improving the quality of citizen services in tangible, human terms and ultimately handing the baton off to the next administration in a strong position."