Why the American Technology Council Stands As Others Disband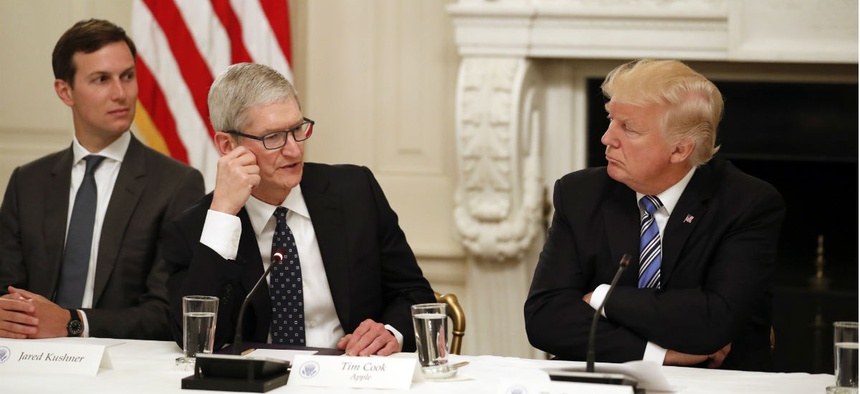 The American Technology Council is comprised of government officials, not private-sector personnel
One day after President Donald Trump disbanded two of his major business advisory councils, the American Technology Council will not disband and will move forward, a White House official told Nextgov.
While corporate leaders made up the now-defunct Strategy and Policy Forum and Manufacturing Council,19 government officials make up the American Technology Council. The tech council includes the president, vice president and Defense, State, Homeland Security and Commerce secretaries. Some positions are still vacant, such as the federal chief technology officer and Office of Science and Technology Policy director.
The council also includes personnel from its newly created White House Office of American Innovation. That office is a small cadre of presidential advisers led by Trump's son-in-law, Jared Kushner and designed to act as a liaison between federal bureaucracy and innovative companies.
» Get the best federal technology news and ideas delivered right to your inbox. Sign up here.
A May executive order created the council to "coordinate the vision, strategy and direction" of technology across government through "ad hoc committees, task forces or interagency groups."
The council held its first series of meetings in June, inviting chief executives from companies like Microsoft, Amazon, IBM and other tech giants to provide insights on modernizing government technology and improving cybersecurity.
The American Technology Council's proxy to Trump and the White House give it and the Office of American Innovation significant "convening power," as members Chris Liddell and Matt Lira have stated.
But some of the same tech industry leaders who attended the council's inaugural meeting may pause if the White House calls again after the fallout from Trump's handling of events following a white nationalist rally over the weekend in Charlottesville, Virginia. Trump said fault for the racial violence, including the death of a 32-year-old woman, laid with "both sides," referring to white nationalists and those protesting against them.
IBM CEO Ginni Rometty, who attended the American Technology Council meeting in June and occupied a position on the president's now-disbanded advisory councils, told her 380,000 employees the advisory councils were disbanding in an e-mail. In it, she said, "In the past week, we have seen and heard of public events and statements that run counter to our values as a country and a company." However, Rometty left the door open for future engagement with the Trump administration.
"IBM will continue to work with all parts of the government for policies that support job growth, vocational education and global trade, as well as fair and informed policies on immigration and taxation," Rometty wrote.
Microsoft CEO Satya Nadella did not call out Trump by name but called for inclusion in an email to employees obtained by Nextgov's sister publication, Quartz. When reached for additional comment, a Microsoft spokeswoman said the company had nothing further to say.
Apple CEO Tim Cook, who told Bloomberg in June he'd continue engaging the White House, penned an internal email distancing the company from Trump, Axios reported. Cook took issue with the president's actions this week, but did not rule out working with the administration.
"I disagree with the president and others who believe that there is a moral equivalence between white supremacists and Nazis, and those who oppose them by standing up for human rights. Equating the two runs counter to our ideals as Americans," Cook said in the email.