This Startup Has Big Plans for the Moon—And Its Rocks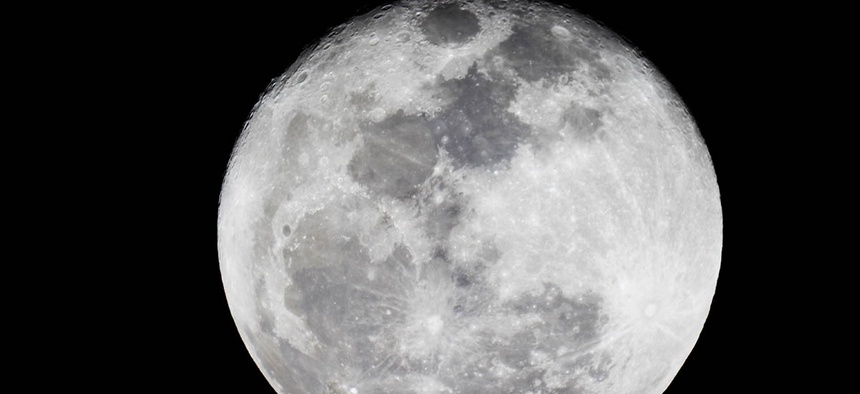 Lawmakers are showing increasing interest in space exploration, especially traveling to and potentially colonizing Mars. But one tech startup came to Washington this week with its sights set a little lower: on the moon. 
Moon Express, an early-stage tech company planning a lunar landing, visited Congress to unveil plans to land on the moon by the end of this year. The goal is to come back with moon rocks and moon dust that can be shared with the public, and eventually to set up a permanent lunar research outpost. 
Chief Executive Bob Richards brought a model of the company's MX-1E lunar lander to the House Science, Space and Technology Committee Wednesday. "Treasures from the moon and from other worlds should be accessible to everyone," he said, and explained plans to bring a "very robust payload" back to Earth from the company's expeditions. 
» Get the best federal technology news and ideas delivered right to your inbox. Sign up here.
The company was founded in 2010 as an entrant in Google's Lunar X competition, which challenges commercial technology companies to land on the moon by the end of 2017. The first one to land will receive $30 million. The Cape Canaveral-based startup has worked with NASA on various efforts and was awarded a data sharing contract that entitles the federal government to certain findings from the company's exploration attempts. 
Richards said he hoped Moon Express landers can "open the moon as a frontier for humanity but also can reach other destinations in the solar system."
An initial mission is planned for the equatorial region of the moon, and the lander is designed to be able to move to other parts of the moon after its first landing. A second launch would aim the lander at the lunar South Pole, which has a more mountainous terrain.   
One of the company's lander models can deliver up to 500 kilograms of materials to the moon's surface, and others are designed to return to Earth after lunar landing. 
The company's explorer systems are designed to be commissioned for private and chartered use, so they're designed to be "vehicle agnostic," Richards explained. As commercial companies begin exploring space, driving down the cost of such missions, "that's going to revolutionize not just our access to space but everybody's access to space."