DHS Cyber Reorg, NIST Funding and Ethical Hacking Make Congress' Calendar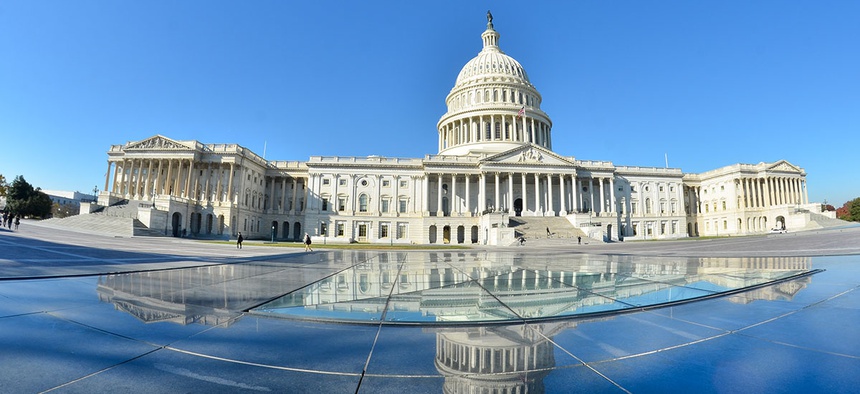 Cyber and technology Hill watchers will have a belt buckle-busting meal laid out for them this week.
Appetizer: On Tuesday, a Senate Appropriations subcommittee will mark up a funding bill that covers key cyber components at the Commerce and Justice departments. That same funding bill will go before the full appropriations committee on Thursday. The House version of that bill cut money for the government's main cyber standards agency, the National Institute of Standards and Technology, but by less than President Donald Trump requested. It also raised funding for the FBI's cyber crime division.
Entree: On Wednesday, State Department Cyber Coordinator Chris Painter will testify before the House Foreign Affairs Committee just five days before he leaves the State Department amid a possible dissolution of his department. Secretary of State Rex Tillerson is reportedly considering closing the cyber coordinator's office and dissolving its functions into State's economics bureau.
On the side: Meanwhile, the president's son Donald Trump Jr. and former Trump Campaign Chairman Paul Manafort will testify before the Senate Judiciary Committee about meeting with Kremlin-linked visitors during the campaign.
Some extra fries with that?: That same day, the House Homeland Security Committee will mark up bills including Chairman Michael McCaul's long awaited bill to reorganize the Homeland Security Department and elevate its cyber operations wing, the National Protection and Programs Directorate. Text for the Cybersecurity and Infrastructure Security Agency Act is due out shortly, a committee spokeswoman said. Similar legislation failed last Congress amid committee jurisdictional disputes.
The committee will also mark up the Cyber Vulnerability Disclosure Reporting Act, sponsored by Rep. Sheila Jackson Lee, D-Texas. That bill would order DHS to produce a report on the government process for deciding whether to disclose or hoard newfound computer vulnerabilities.
And for dessert: Finally, the House Small Business Committee will hear testimony Wednesday on cyber threats against small companies and how cyber insurance can help.
Wray on His Way
The big cyber Hill news this week was FBI Director nominee Christopher Wray's unanimous approval by the Senate Judiciary Committee Thursday. Wray will replace former FBI Director James Comey who Trump fired in May. He'll also inherit the nation's largest and most extensive cyber crime investigations unit. Wray's nomination is expected to reach the Senate floor before the August recess.
House Dems to Tackle Election Security Solo
Rep. Jim Langevin, D-R.I., a co-founder of the Congressional Cybersecurity Caucus, and Rep. Zoe Lofgren, D-Calif., a top tech lawmaker, will serve on the party's new Election Security Task Force, leaders announced Thursday. House Minority Leader Nancy Pelosi, D-Calif., launched the task force in June decrying in action by Republican leaders on Russian digital meddling in the 2016 election. The task force will be co-chaired by Reps. Bennie Thompson, D-Miss., ranking member on the Homeland Security Committee, and Robert Brady, D-Pa., ranking on House Administration.
Lawmakers Support Ethical Hacking
Rep. Lou Corrrea, D-Calif., introduced a "sense of Congress" resolution Thursday stating that the government, industry and academia should all work together on curriculum, programs and competitions that foster cybersecurity and ethical hacking skills.
Collins Warns of Social Security Scam
Sen. Susan Collins, R-Maine, wants older Americans to watch out for a new Social Security scam that's being reported to the Senate Aging Committee's fraud tip line. The scammers, who pose as Social Security Administration employees, usually call from a California area code and tell victims they're eligible to receive a Social Security cost of living adjustment. Then the fraudsters collect personal information so they can divert Social Security benefits meant for the victims into their own accounts.