Competition for Tech Talent Heats Up with Clinton's Google Hire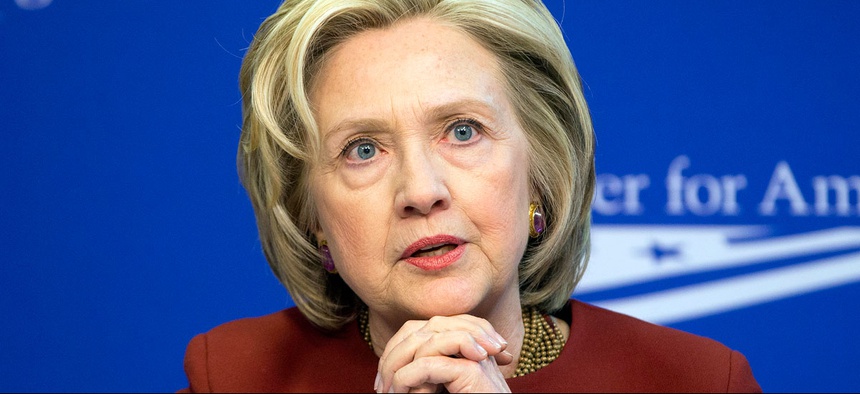 Hillary Clinton hopes to staff her (still-undeclared) campaign tech team with Silicon Valley's best and brightest. But in her search for tech talent, she may find herself competing with the very people she used to work alongside -- the Obama administration.
The former secretary of state has just hired Google executive Stephanie Hannon as her chief technology officer, according to The Washington Post, which cited "Democrats with knowledge of the move."
Hannon's new job will likely involve leading a team of developers and engineers as part of Clinton's highly anticipated presidential campaign, according to the article. Based at the campaign's headquarters in New York, Hannon's work is expected to include designing digital strategies to attract more voters and designing an array of apps and websites.
Hannon has spent the past two years as director of product management for Google. Prior to that, she was a Facebook product manager. 
Although Hannon is Clinton's first notable private sector tech hire for her expected presidential campaign, she probably won't be her last. But the expected gold rush for campaign tech talent could face some competition from the current administration's tech-recruiting efforts.
In recent years, President Barack Obama has made good on his commitment to bring more key tech players to the White House. 
His administration has recruited Google's Mikey Dickerson to lead the United States Digital Service, Amazon's Ellen Ratajak to be the engineering director for the Department of Veterans Affairs' digital service team, and dozens of other Silicon Valley elites.
The administration is expected to recruit even more members in the coming years, as the Digital Service expands into more federal agencies.
Meanwhile, in about a year, the fix-it team working out of the General Services Administration, 18F, has grown from about a dozen staffers to more than 100.  
Clinton will also be competing with other presidential candidates for tech gurus. 
"Likely presidential candidates from both parties are hiring digital advisers who can help them build websites and apps to interact with voters and try new fundraising techniques," Reuters reported Wednesday.