Smarter Printing Could Cut Costs, Energy Use in Half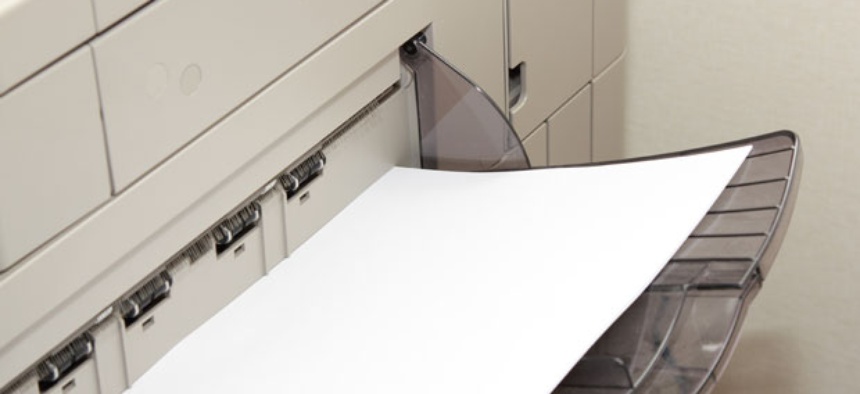 This is the eighth in a series of sustainability case studies developed by the Center for Climate and Energy Solutions.
Hitting the print button is reflexive for some employees, but the habit is costly. Federal agencies spend up to $2 billion per year on printing and associated costs, such as buying, servicing and powering printers and supplying them with toner and paper.
Underscoring the potential for savings, a 2009 survey found that federal employees discarded 35 percent of what they printed on that same day. Only 9 percent of agencies had policies requiring two-sided printing as the default setting and only 20 percent had restrictions on color printing.
In response to a 2011 executive order mandating a 20 percent cut in federal spending across five areas, one of which was printing, the General Services Administration launched two initiatives to transform how the federal government manages printing. It is estimated these efforts could cut printing-related costs almost in half, while also saving energy. First, GSA set out to leverage federal purchasing power to drive down the cost of equipment through a Federal Strategic Source Initiative (FSSI) for print management devices and support. In September 2011, GSA awarded blanket purchase agreements for the procurement of printing devices, including both multifunctional devices and network printers. The goal is to dramatically reduce the average cost of a black-and-white printout across the federal government from 7 cents per page to about 2 cents.
Second, GSA created a "PrintWise" awareness campaign to encourage federal employees to make better printing decisions. A cornerstone of this effort is a strategy called "Seven Steps to Lowering Costs Within 90 Days," which lays out a series of concrete actions projected to save the federal government more than $330 million. Among the simple steps agencies can take is to turn off printers on weekends and set default controls to double-sided (instead of single-sided), black and white (instead of color) and draft quality (instead of high quality).
For example, the Commerce Department instituted a new campaign that has increased double-sided printing from 11 percent to 53 percent, increased black-and-white printing from 77 percent to 88 percent, and decreased the number of pages printed by 27 percent. The goal is to cut the department's $4.7 million annual printing budget by 20 percent.
As more agencies successfully implement these programs and share their experiences, it is likely that the federal government will go a long way to achieving an estimated $1 billion in savings, in addition to reducing the use of paper and power.
Read the full case study here.
(Image via charnsitr/Shutterstock.com)