Obama Slashes Border Surveillance by $100 Million, Against Lawmakers' Wishes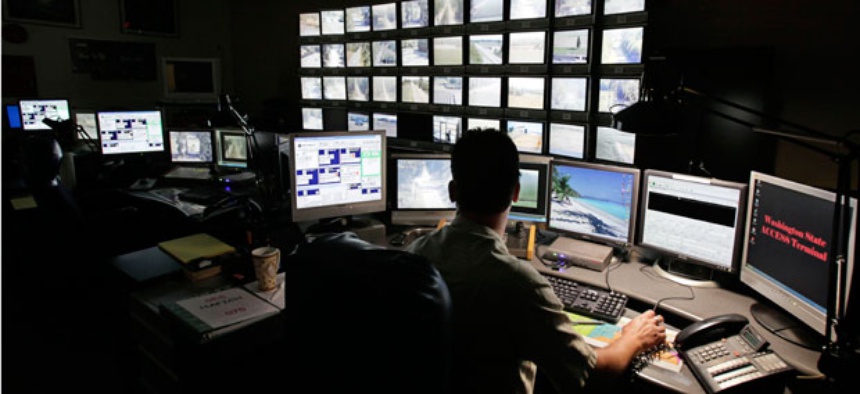 President Obama is asking Congress to dock funding for border security technology by $100 million, just as lawmakers start discussing legislation to require widespread electronic surveillance a decade earlier than planned.
An ongoing Homeland Security Department computer project to detect illegal crossings was set for completion within 8.5 years after a contract is awarded, according to federal documents. Now, key Republicans and Democrats in both chambers are sponsoring a measure that would require a digital common operating picture of the border within two years. 
The president's 2014 budget devotes $351 million to camera-flecked towers, mobile communications, and other sensing technologies -- 22 percent less than this year's $450 million spending level.  
"Unfortunately," the president's proposal reduces funding for border security technology, such as blimp-like "aerostats" and towers, both of which "are crucial to intercepting potential drug and human traffickers crossing our borders," House Homeland Security Committee Chairman Michael McCaul, R-Texas, said in a statement. The budget boosts staffing at Customs and Border Protection but those officers will "need the detection capabilities provided by advanced technology in order to see and stop people and illicit materials from getting into the U.S."
The $1 billion border monitoring project that is under way grew out of an abandoned $1 billion "Secure Border Initiative" network conceived in 2005. A new contract is expected to be awarded in the fall, according to government databases. The current strategy involves erecting towers, solely in Arizona, that are readily available and proven to function in targeted locations. SBInet faltered trying to meet unrealistic system requirements, such as a 70 percent detection rate in untested environments, Homeland Security officials say. 
DHS Secretary Janet Napolitano's testimony for a Thursday House hearing stated that "funding is requested to support the continued deployment of proven, effective surveillance technology along the highest trafficked areas of the southwest border," adding that, "funds will be used to procure and deploy commercially available technology tailored to the operational requirements of the Border Patrol, the distinct terrain, and the population density within Arizona."
A bipartisan House bill co-sponsored by McCaul, and similar Senate legislation, would require that "not later than two years after the date of the enactment" DHS must obtain "situational awareness of the international borders of the United States." Surplus Pentagon surveillance equipment, drones, biometric tools and other sensing technologies would generate data and images for display on computer screens.
Separately, bipartisan Senate immigration reforms, reportedly, are expected to require the whole southern border be under close watch before granting green cards to the nation's roughly 11 million illegal aliens. That proposal is tougher on border security than the White House's immigration overhaul, which came out in February.
But both plans would mandate a currently voluntary online program for employers who want to confirm the legal status of new hires in government databases. The $112 million E-Verify program was hit by sequestration's default funding cuts but would increase under the 2014 budget to reach $114 million.