Corporate Execs Are Obsessed With Blockchain Because They Can't Afford to Ignore it Anymore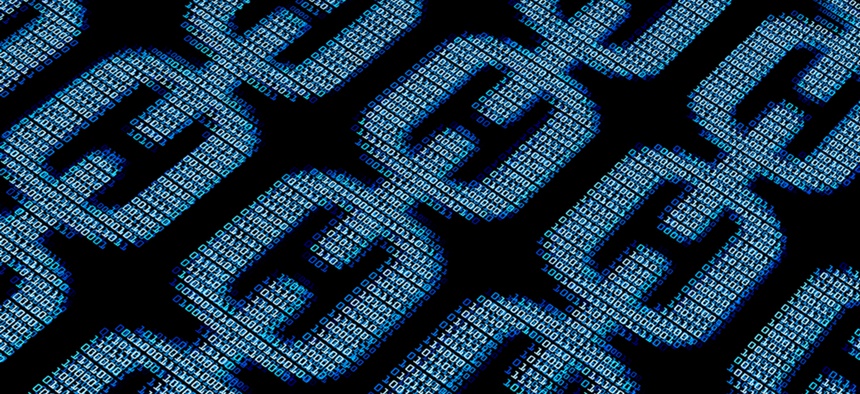 From tech firms to banks to retailers and beyond, investors now expect execs to explain their companies' positions on blockchain technology.
The blockchain hype is real, and it's become the talk of C-suites around the world. Quarterly reports and conference calls that mention "blockchain" are running at an all-time high this earnings season. Behold:
Incidentally, the price of bitcoin, which is the first technology to use a blockchain, has also soared this year. Are corporate executives talking about blockchain because the sky-high price of bitcoin has made the technology impossible to ignore? That's certainly a more likely explanation than the opposite: that the bitcoin price is surging because C-suite execs are chatting about it with analysts.
From tech firms to banks to retailers and beyond, investors now expect execs to explain their companies' positions on blockchain technology. ("Just have to ask the blockchain question," a JPMorgan analyst said on stage to a software company exec earlier this week.) Here are some recent highlights:
Estée Lauder annual shareholders meeting, Nov. 14
William Lauder, executive chairman: "One thing I want to be clear, we're all here because we, the Estée Lauder companies and all of our brands, are really successful at selling beauty products. If investors would like to invest in speculative currency like cryptocurrency, I'm sure there are more direct investments than coming to us. You've come to us because we sell a lot of lipstick. Tracey?"
Tracey Travis, CFO: "…At this point, in none of our retail establishments do we accept bitcoin. We certainly do follow blockchain and what's going on with that and we'll continue to assess that going forward as that evolves."
Citigroup presentation, Nov. 14
Naveed Sultan, global head of treasury and trade solutions: "Simply put, we're moving money through our pipes using blockchain technology."
Green Dot Corp. presentation, Nov. 14
Unidentified analyst: "I guess, you said in a Bloomberg interview today that you're interested in exploring potential uses of blockchain? Can you provide some insight as far as how…"
Steven Streit, CEO: "…It has interesting processing benefits. We're doing nothing with it. I don't know a lot about it, but I'm happy to have you talk to one of our technologists. If they got a quote based on that after that, God bless them, that was my response. What I did tell them, which I didn't use, is they actually didn't ask about the blockchain. They asked me about, what do you call it, cryptocurrency."
Arista Networks presentation, Nov. 13
Andreas Bechtolsheim, chairman: "Bitcoin is for people who like tulips. And I noticed there was a 30% crash in one of the bitcoins over the weekend to be—bounced back 50% the next day. But the other bitcoin went up—bitcoin cash went up in the same time. So it's like, sell your red tulips, buy the yellow tulips. I don't see any underlying value to this bitcoin thing, I'm sorry. Now the blockchain, which is separate of course, is an interesting (inaudible) . But in terms of market impact, you can't compare this to AI."
IBM presentation, Nov. 8
Martin Schroeter, CFO: "So our view of blockchain is that it will fundamentally change—again, fundamentally change processes, but it has to have a few characteristics in order for it to really take off. And we think and we expect that this is going to be a nice, big, growing business at some point for us."
NVIDIA quarterly earnings call, Aug. 10
Jensen Huang, CEO: "Cryptocurrency and blockchain is here to stay. The market need for it is going to grow, and over time, it will become quite large. It is very clear that new currencies will come to market."
Walmart annual shareholders meeting, June 2
John Furner, executive vice president: "Well, in China, we're doing a traceability pilot with pork using blockchain technology. And what blockchain does is it allows someone to track a product from the farm all the way to the shelf and then have a record of it each and every step along the way."
Western Union presentation, May 23
Hikmet Ersek, CEO: "So blockchain, I believe it's something good. I don't believe that bitcoin will be a world currency. That's a thing, it will be a certain asset used by certain people. That was one of the first questions as bitcoin came, is Western Union's business not going to exist anymore? I think blockchain, as many people are working on that blockchain, I think we are also looking at that, can use it as a settlement communication part… Basically, my CIO, David Thompson, is a big blockchain guy. He knows that environment also very well, so we'll do look if there are opportunities."
UPS quarterly earnings call, April 27
Richard Peretz, CFO: "Yes, when you think about the potential of blockchain, we see a tremendous amount, not just in the areas [president Jim Barber] talked about, but also even in how customers and suppliers, our customers who are fulfilling, transact. And so we do think there's a lot of potential there."
Webjet half-year earnings, Feb. 22
John Guscic, managing director: "It would be fair to say, we have had some very interesting dialog with a broad range of partners outside of our normal sphere of influence, who have the intellectual curiosity to ask the question about what is this blockchain going to do for their business, and is there something that exists in the IP that we've developed so far, that is transportable. More to come, we'll keep you updated. We're still a fair way from the commercialization of the technology to a product that could be sold."