DOD to get interim agile software rules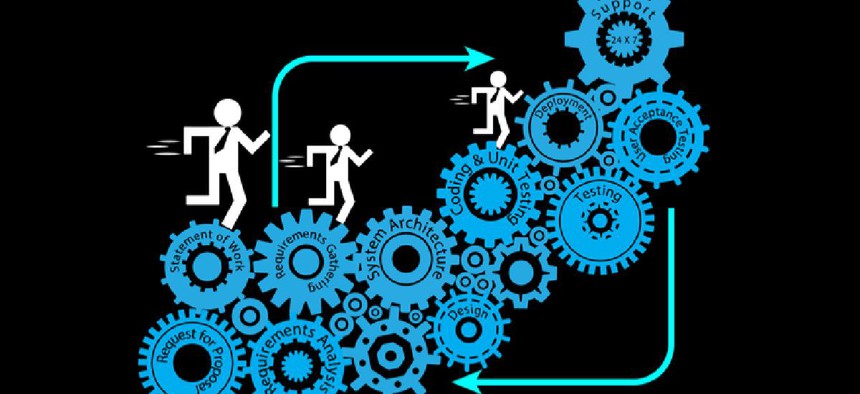 A new adaptive acquisition framework being rolled out by the Defense Department will boost software development.
The software portion of the Defense Department's innovative adaptive acquisition framework, said one of the agency's top acquisition officials, will be a sea-change in its acquisition practices.
The DoD's traditional acquisition focus has been on buying large systems and hardware of all types, said Stacy Cummings, principal deputy assistant secretary of defense, acquisition, which aren't the best when applied to fast moving software development.
Come January, the agency will get an interim policy change that will let it delve more deeply into agile, DevOp-types of software development, she said in remarks at the Professional Services Council's Vision conference on Oct. 30.
By the end of the year, she said, the DoD will push out interim changes to Department of Defense Directive 5000.01 that will set up iterative development practices, rather than having to stick to more traditional methods.
The software "path," according to Cummings, is one of several "transformational changes" in an adaptive acquisition framework recently announced by Undersecretary of Defense for Acquisition and Sustainment Ellen Lord.
The software path in the framework, Cummings said, will allow DevOps "software factories" to arise that can follow more agile timelines and rapid development techniques.
The overarching framework addresses the breadth of the agency's acquisition pursuits, to facilitate decision-making and speed up acquisition processes. The new policy is being tested at the Defense Acquisition University at Fort Belvoir, Va., Cummings said.
Although the framework is aimed at broader acquisition change, Cummings said software development is right in the sweet spot of the framework's intent, since software is malleable, changes rapidly and is adapted to myriad applications across the agency.
Cummings said she expects a permanent policy sometime next year and will incorporate any necessary changes gleaned from experience under the interim rule.