Author Archive
Jack Corrigan
Staff Correspondent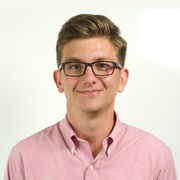 Emerging Tech
While there's no magic number for R&D spending, the Pentagon is spending less than experts recommend.
Emerging Tech
The department aims to be the civilian leader in unmanned systems, flying nearly 5,000 missions last year alone.
Cybersecurity
And per usual, legacy IT and lack of employee expertise are challenges.
Emerging Tech
By 2022, the agency plans to use biometrics to identify 97 percent of travelers flying out of the country.
Cybersecurity
Auditors found a programming error prevented the IRS from sending out notices.
Emerging Tech
A department contest advanced five early warning systems designed to detect biological attacks.
Cybersecurity
One bug discovered during Hack the Air Force 2.0 earned $12,500—the largest federal bounty paid out so far.
Emerging Tech
The government needs to put money into artificial intelligence if it wants to beat other countries, tech experts say.
IT Modernization
Despite agency policies, many federal employees download unauthorized apps and connect personal devices to agency networks.
Cybersecurity
Feds need to secure the internet of things and work more closely with private companies, they said.
CIO Briefing
Meanwhile, Pentagon researchers will get an extra $13.5 billion to play with.
Emerging Tech
Those smartphone addictions are not a joking matter, according to a trio of lawmakers.
Emerging Tech
A program led by federal agencies may offer local governments ways to get better at using smart technologies.
Emerging Tech
Agency officials are heading on a cross-country tour to demystify selling to the government.
Data
The biggest benefits are increased public transparency and improved agency management, participants say.
CIO Briefing
The larger pool will increase competition and drive down costs, the agency said.
Cybersecurity
Companies could build backdoor access into products, but it leaves users vulnerable.
Data
The Air Force Research Laboratory bought software that trains machine-learning tools to spot groups amassing biological, nuclear and chemical weapons.