Author Archive
Frank Konkel
Executive Editor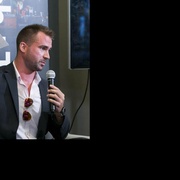 Frank Konkel is Nextgov's executive editor. He writes about the intersection of government and technology. Frank began covering tech in 2013 upon moving to the Washington, D.C. area after getting his start in journalism working at local and state issues at daily newspapers in his home state of Michigan. Frank was born and raised on a dairy farm and graduated from Michigan State University.
CIO Briefing
Amazon narrows the 238 proposals it received to build its next headquarters to 20 finalists.
IT Modernization
During an eight-week pause, the department will assess the program's successes and failures so far.
CIO Briefing
The man behind some of the government's most important tech efforts in recent decades announced his retirement.
Emerging Tech
Following the worst weather year ever, the federal government is investing heavily in supercomputing to improve forecasting.
Policy
The order offers no funding for broadband projects but aims instead to reduce bureaucratic barriers for industry.
IT Modernization
A pair of companies is challenging General Services Administration's Alliant 2 contract vehicle in court.
IT Modernization
It's the next step in the White House's plan to update government tech.
IT Modernization
The cloud office shares its best practices for federal agencies that want to grant a cloud service provider permission to operate.
IT Modernization
The message on the website says it will return in January with responses to the petitions that merit it.
CIO Briefing
One of the first things the service needs to do is to get more feedback from customers.
Policy
The House Oversight and Government Reform Committee provided five new directives to the Government Accountability Office related to ensuring the government maximizes its tech investments.
IT Modernization
The first center of excellence will be a partnership between the Agriculture Department, White House, General Services Administration and industry.
Data
The intel agency is hacking hiring rules to fill three new digital teams in its quest for data dominance.
Emerging Tech
More than 160 companies bid on the contract but 61 made the cut.
Cybersecurity
An advocacy group is suing the EPA over an open records request regarding employees' use of the application Signal.
Emerging Tech
This ebook looks at how agencies are baking customer experience into their missions.
CIO Briefing
First, avoid vendor lock-in, the industry group said.