Author Archive
Frank Konkel
Executive Editor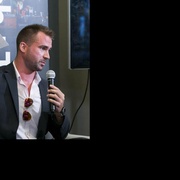 Frank Konkel is Nextgov's executive editor. He writes about the intersection of government and technology. Frank began covering tech in 2013 upon moving to the Washington, D.C. area after getting his start in journalism working at local and state issues at daily newspapers in his home state of Michigan. Frank was born and raised on a dairy farm and graduated from Michigan State University.
IT Modernization
Legal documents shed light on one of NSA's most important tech contracts.
CIO Briefing
After receiving an unsolicited bid Sunday from CACI, CSRA and General Dynamics sweetened their original merger agreement.
IT Modernization
The IRS' Individual Master File may be the oldest IT system in government and its failure could disrupt tax processing nationwide.
IT Modernization
The Government Accountability Office dismissed a bid protest filed in February against a $7 million sole-source cloud support contract related to the Defense Department's JEDI Acquisition.
IT Modernization
Microsoft withdrew a bid protest that allows U.S. Transportation Command to begin migrating data to Amazon's secret cloud region.
Emerging Tech
This eBook looks at emerging technologies that are shaking up government operations.
IT Modernization
REAN Cloud sounded off after finding out from press accounts that its $950 million cloud contract had been slashed.
IT Modernization
CSRA's milCloud 2.0 can now host the most sensitive unclassified data across the Defense Department.
IT Modernization
The Defense Department will host an industry day for its Joint Enterprise Defense Infrastructure cloud acquisition on March 7.
IT Modernization
The Trump administration requested $1.2 billion in fiscal 2019 for a commercial health records contract, which the department is expected to award by March.
Emerging Tech
The White House made machine learning and autonomous systems research and development priorities this year, the deputy chief technology officer said.
Emerging Tech
The IRS wants to provide a better user experience to customers without breaking the bank.
IT Modernization
The Defense Department awarded a sole-source contract to Eagle Harbor Solutions, an Alaska-based small business with a single employee, to consult in its major cloud acquisition.
CIO Briefing
Citizen satisfaction jumped 2.5 percent in 2017 with federal agencies, according to the American Customer Satisfaction Index.
IT Modernization
The Defense Department and the contractors building its $4.3 billion health records platform say they're on schedule
CIO Briefing
Amazon narrows the 238 proposals it received to build its next headquarters to 20 finalists.
IT Modernization
During an eight-week pause, the department will assess the program's successes and failures so far.
CIO Briefing
The man behind some of the government's most important tech efforts in recent decades announced his retirement.