Author Archive
Caitlin Fairchild
Web Producer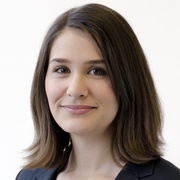 Caitlin Fairchild joined Government Executive in summer 2011 as an editorial fellow, after graduating from the College of William & Mary, where she spent four years writing for the student newspaper, The Flat Hat. In March 2012, she was hired full time as a web producer. She has completed internships at Washingtonian Magazine and at the public affairs office of Nellis Air Force Base in Las Vegas.
Emerging Tech
Google will roll out seven more languages over the next few months.
Emerging Tech
2018 could be the year of lightning-fast internet—depending on where you live.
Emerging Tech
Google is going to know what you will say before you do.
Cybersecurity
The websites were forced to mine the cryptocurrency Monero.
Cybersecurity
The Justice Department announced charges against two for making a Connecticut ATM spit out cash.
Data
Play Overwatch and help some children.
Cybersecurity
Don't get hacked while watching the curling competition.
Data
The massive privacy threat could affect you as well.
Cybersecurity
The notorious form of cyber theft has reached the United States.