Administrator calls collaboration key to FAA's NextGen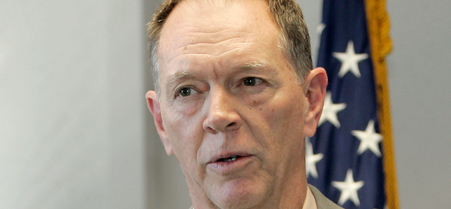 040610babbitNGins (Apr. 6) - FAA Administrator Randy Babbitt says NextGen "isn't as far advanced as it should be." Ap photo
Lack of collaboration and policy changes, not technology, will be the obstacles that could trip up the Federal Aviation Administration's deployment of a new air traffic control system, aviation specialists said on Tuesday.
FAA officials and industry representatives said at a conference in Washington that the success of NextGen, an ambitious $20 billion program to replace the nation's aging radar-based air traffic control system with a satellite-based network by 2020, will depend on breaking down stovepiped operations to increase cooperation. Unclear policies, such as who should have access to flight information data and who will pay to equip planes with the new technology, also will continue to delay NextGen, they said.
"We need to commit to delivering capabilities on a set schedule and at specific locations," FAA Administrator Randy Babbitt said in a speech. "That's only going to happen if we continue to work together and build on the consensus we have to determine the most effective order in which to implement new capabilities. . . . Partnership is an integral component of FAA's strategy for NextGen.
"Right now we have [a National Airspace System] that isn't as far advanced as it could be or should be," he added. "We can't afford not to move forward with NextGen."
Sandy Samuel, vice president of aviation solutions at Lockheed Martin Corp. and a member of a panel discussing the new network, said, "It's really important that upfront we make decisions and then go with implementation."
FAA is exploring how to share information internally and externally to streamline the NAS, which includes all the equipment, facilities and personnel working on aviation operations. The agency is developing policies for data sharing and release, and expects to release a formal plan by the end of the year, said Teri Bristol, FAA's vice president of technical operations services.
The agency is putting together a national airspace council, which will work to integrate aviation activities. It's important to make decisions that help converge rather than diverge, said Steve Osterdahl, FAA's vice president of terminal services.
FAA also must train its workforce on NextGen technologies. The agency last week released a 10-year plan for recruiting, hiring and training air traffic controllers, but said it has yet to determine what impact the new system will have on staffing.
"We're not going to be taking a lot of things out of the NAS for awhile," Bristol said. "We have to not only maintain what's out there today but be ready to embrace new technologies as well, and we're spending a lot of time looking at what competencies are needed. What does the technical workforce look like even from an acquisition standpoint? How many people do we need?"
Because NextGen involves many new technologies, one of FAA's initiatives is to use NextGen field branches to train employees before the systems reach operators on the ground, officials said. The agency also wants to ensure it ties legacy systems into NextGen.