Bon Jovi helps feds kick off mobile apps contest to aid homeless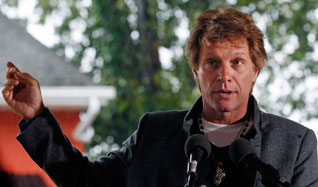 Mel Evans/AP
The Veterans Affairs, Housing and Urban Development, and Health and Human Services departments on Monday joined forces with rocker Jon Bon Jovi to kick off a contest to develop mobile software applications that will help the homeless find shelters, clinics, food kitchens and other resources.
Bon Jovi, chairman of the JBJ Soul Foundation, which runs a shelter and kitchen for the homeless in Red Bank, N.J., said the idea for the project came when he realized organizations providing services to the homeless in his area lacked resources to find basic information, such as the availability of beds in the local area.
Bon Jovi, named by President Obama to the White House Council for Community Solutions in 2010, told reporters at a briefing sponsored by the departments that the idea to use technology to help the homeless began to crystallize when he met Aneesh Chopra, the former federal chief technology officer, at a White House event in 2011.
To fill the technology gap, VA launched a mobile apps contest called Project REACH (Real-time Electronic Access for Caregivers and the Homeless), hosted on Challenge.gov, to develop a smartphone app that can track community resources.
"This contest taps the talent and compassion of the nation's developer community. We are asking them to make a free, easy-to-use Web and smartphone app that provides current information about housing, health clinics and food banks," VA Secretary Eric Shinseki said in a statement.
W. Scott Gould, VA deputy secretary, told reporters an app that can zero in on shelter bed availability in a given area "can unlock capacity" in the social services system. An app that could identify even a limited number of vacant beds could make a big difference in providing temporary housing for the nation's 59,000 homeless veterans, said HUD Secretary Shaun Donovan.
Pete Dougherty, acting executive director of VA's homeless veterans initiative, said, "innovations that get information about services right to the point of contact in real or near real time using smartphones and Internet technology are going to have a big impact. They are going to help us defeat veteran homelessness by 2015."
Mobile app developers who plan to enter the contest can use applications and data HUD has stored in an online repository, the Homeless Management Information System, Donovan said. HMIS includes a range of computer and Web applications such as client and clinic management software, and budgeting and staffing software.
VA will run the contest in two phases. First, developers must demonstrate the ability of their app to locate and update information about housing and shelters near the JBJ Soul Kitchen. The apps also must display information about local VA services, employment support, crisis hot lines and legal assistance resources.
The first five entries to meet those requirements will receive a $10,000 cash prize and the opportunity to test their app at the JBJ Soul Kitchen. Ultimately, the goal is to create a national platform that will enable health clinics, food kitchens, housing services and shelters to update availability of key services automatically on the Internet. The winning app will collect, map and electronically distribute that information for communities across the nation.