State and Mexican billionaire team on texting to fight drug violence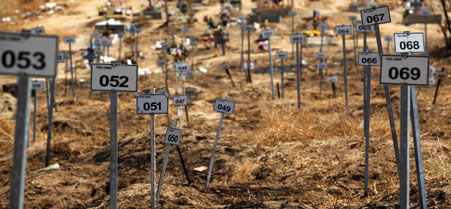 Unmarked tombs, many of them victims of drug violence, are seen at a municipal cemetery in Tijuana, Mexico. Guillermo Arias/AP
An adviser for Secretary of State Hillary Clinton is looking into developing a text-messaging service that would allow Mexicans to safely report under-the-radar incidents of drug-related bloodshed.
"People feel they can commit acts of violence and not be held accountable," said Alec Ross, Clinton's senior adviser for innovation, in an interview on Tuesday.
Ross, in October, flew a team of U.S. technologists, including the chairman of broadcast text-messaging service Twitter, to Mexico City to discuss funding for a free text-messaging system that will allow Mexicans to report violence anonymously. The Americans spent a couple hours with billionaire Carlos Slim Helu -- the third-richest man in the world according to Forbes' annual rich list -- to forge a partnership. Slim holds a $16 billion stake in America Movil, Latin America's largest mobile phone company with 173 million customers, according to Forbes .
The short message service system will strip witnesses' text messages of personally identifiable information and transmit them to a central office for response. The descriptions and addresses of the incidents will be geographically displayed on a public Web site.
"[A nongovernment organization] is going to anonymize the reporting -- because people need to be safe -- and the information is going to be mapped, probably on a Google map," Ross said.
Police will be held accountable for responding within a certain number of hours. After investigating the situation, law enforcement officials will be required to detail their findings on the public site.
Essentially, "people are SMS-ing where bad things are happening," Ross said. State plans to work with all Mexican telecommunications firms, including those owned by Slim, he added.
Clinton has said Mexico's drug problem also is America's problem and the United States has a responsibility to help Mexican law enforcement officials address it. Traffickers use guns purchased stateside to kill each other, the Mexican military and police. U.S. demand for illegal drugs partly finances the trafficking, with up to $25 billion annually. The upshot is more than 60 million Americans who live in border states are affected by drug-related violence.
Separately, on Dec. 4, senior-level government officials from both countries signed a protocol to reduce cross-border radio interference among Mexican and U.S. public safety organizations. The move comes as both countries begin deploying a new radio frequency band for high-speed Internet and mobile use in the border area.
With the mobile drug-reporting plan, "citizens can see if the police did something or if they did nothing," Ross said. "It creates transparency, accountability and it enables anonymity."