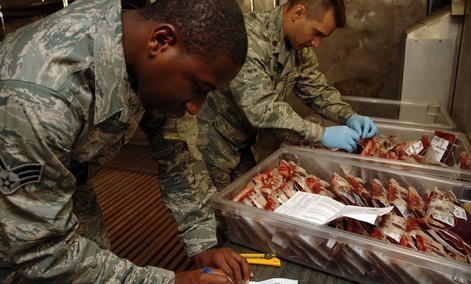 The Defense Department has failed to adequately develop blood information systems over the past 13 years of war in Afghanistan and Iraq despite spending a total of $289 million, the Pentagon inspector general reported last week.
The latest review, which is a follow-up to an October 2001 IG report, said the Armed Services Blood Program Defense Blood Standard System – or DBSS – has miscounted the inventory of blood products, including those used in combat, and that the Pentagon has failed to develop a single, integrated portfolio for the blood information technology system.
The officials in charge of the effort "could not demonstrate after 13 years that officials implemented the necessary actions to mitigate the identified system problems as agreed," in 2001," Amy Frontz, principal assistant inspector general for auditing, wrote in the Oct. 23 cover letter to Jonathan Woodson, the assistant secretary of defense for health affairs, accompanying the report.
In 2001, the IG first recommended DBSS be replaced with a new system – the Enterprise Blood Management System, or EBMS -- which would help eliminate inventory problems as well as the requirement that data be manually entered into the system.
The IG, in its current report, said the donor portion of EBMS ...