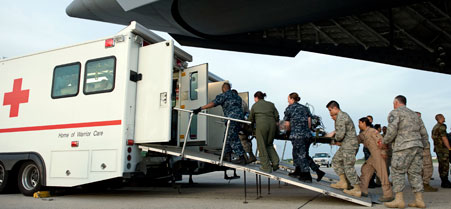 While Congress considers a new plan to cut costs, reduce management overhead and improve efficiencies in the Military Health System, a watchdog report indicates MHS has failed to deliver on promises in a 2006 management and governance strategy.
MHS projected it would save $172 million annually by consolidating military hospitals in the Washington area. As part of this plan, the Army closed the Walter Reed Army Medical Center and transferred patients to an expanded National Naval Medical Center in Bethesda, Md. The strategy also involved constructing a new hospital at Fort Belvoir, Va.
In an assessment released Thursday, however, the Government Accountability Office noted the upfront costs of this move will erase any savings over a 20-year payback period. Those costs include $2.8 billion in construction at Bethesda and Fort Belvoir, according to a February presentation from the Joint Task Force National Capital Region-Medical.
MHS -- which requested a $48.7 billion budget for 2013 -- also anticipated saving $6.8 million annually from setting up a new management structure and consolidating Army and Air Force hospitals in San Antonio, but GAO said it did not project any savings from this change over a 20-year period.
To further cut costs and improve overall management, the Defense Department decided to consolidate all headquarters functions of MHS; the Army, Navy and Air Force medical departments; and the TRICARE Management Activity.
GAO said no savings would be realized from this move either, because Defense entered into a long-term $377 million lease for office space in Falls Church, Va., this summer, rather than renovate an existing building or construct a new facility. This pushed costs for the new headquarters up $900,000 annually, GAO said.
MHS told the watchdog agency that the new headquarters would improve collaboration among the three services' medical departments and increase efficiency, but GAO reported service personnel will be segregated in different wings, "which could hinder opportunities and further consolidation of functions."
The 2006 plan also called for MHS to streamline management of military treatment facilities outside the Washington and San Antonio areas. The MHS governance plan submitted to Congress in March envisions additional consolidation. It calls for establishing a new Defense Health Agency to take over TRICARE and assume responsibility for common clinical and business processes across MHS, such as medical education for physicians, nurses, medics and pharmacists; medical logistics; and health information technology.
This fits with recommendations GAO made in its report, which advised MHS to follow through on its 2006 governance plans. Those included establishing a joint directorate for shared services and common functions, and additional streamlining of military hospitals. Dr. Jonathan Woodson, assistant secretary of Defense for health affairs, concurred with GAO's recommendations.