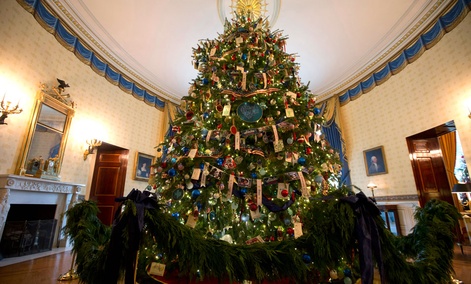 A White House competition for the best 3-D printed holiday ornaments launched Thursday. And it's not even Halloween.
Apparently there are currently no 3-D printed ornaments in the White House collection, so yours could be the first.
You don't need your own 3-D printer. Just send in your design (try Tinkercad if you don't have a better way) in the next week and a half, and the White House will take care of actually 3-D printing a selection of the winners.
The ornaments will be displayed at the White House through the holidays. They'll also be featured at the Smithsonian's 3-D data site 3d.si.edu. A few will join the political history division of the Smithsonian's National Museum of American History.
"With the democratization of tools and technologies like 3-D printing, individuals have more opportunities to take their ideas and turn them into reality," Stephanie Santoso, an adviser at the White House Office of Science and Technology Policy, said in a blog post Thursday.
The contest is part of a larger White House effort to get innovative Americans to make things. 3-D printers create objects designed in computer programs by pouring substances in ...