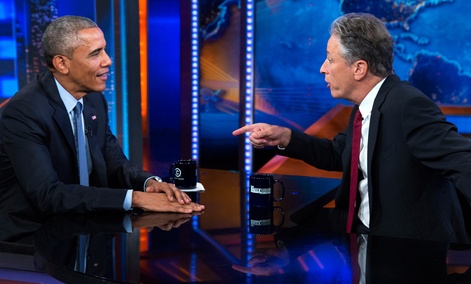 Some of the most memorable sound bites from President Barack Obama's appearance on "The Daily Show" last week centered on government technology and the IT challenges faced by federal agencies.
Obama broached on the wave of Silicon Valley tech talent invading government, challenges in IT procurement and how better IT can lead to better customer service between the government's 2 million employees and its 300 million-plus citizens.
The whole extended interview is worth a view, but below are the best Obama remarks on tech.
Responding to a question from "Daily Show" host Jon Stewart on shortfalls in delivery at the Department of Veteran Affairs, Obama said:
"Government works better now than it probably ever has given what we ask it to do. Across agencies, there have been all kinds of reforms and improvements and people there work hard and care about stuff deeply. What is true is if you have a government built on 1930s models and it's not updated for decades, then there's gonna be a gap in terms of what it is doing now relative to what some other folks do."
Obama continued, calling out IT as perhaps the government's biggest challenge in...