Report: Joint U.S.-China Aviation Ventures Are More Prone to Cyber Intrusions than U.S. Firms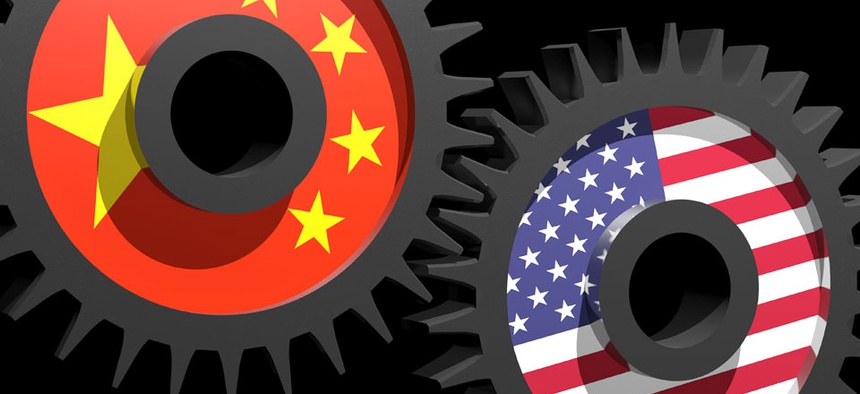 This story was updated Thursday for clarification, after one of the report's co-authors provided new information. Not all of the companies reporting "attacks" were successfully attacked. 
American aerospace firms jointly operated by Chinese companies are nearly two and a half times more at risk of cyberespionage than U.S. enterprises -- but the Chinese government is not the likely perpetrator, according to a draft report set for release on Monday. 
Out of 11 companies with Chinese and U.S. interests, 64 percent reported suffering attempted or successful intellectual property theft, including Alcoa, Boeing Co., General Electric, Honeywell, Pratt & Whitney, Rockwell Collins, and Sikorsky. 
Of 11 American companies with no Chinese stakes, only three reported attempts to steal data or data actually stolen: Gulfstream, Lockheed Martin Corp. and Orbital Sciences Corp. Gulfstream and Lockheed maintain offices in China, but not Orbital Sciences. 
The preliminary report, reviewed by Nextgov, explains: With a hand in most of the nation state's businesses, "the Chinese government is the least likely suspect because they already have access to the U.S. partner's technology."  Email, mobile, landline and satellite communications typically are monitored by China authorities. 
In contrast, cyber robberies often grab a lot of useless data, indicating an outsider was responsible, such as a criminal enterprise or another foreign country keen on the same technologies. "A network breach is an attack with a blunt instrument that takes time and resources, and often involves indiscriminate file capture and exfiltration rather than the precision of an insider," the draft states.
It is "much easier" for China to obtain what it wants from joint ventures "via technical and insider means than via hacking," said report co-author Jeff Carr, a cyberwarfare researcher and founder of security consultancy Taia Global. Carr often warns against overestimating the Chinese cyber threat. 
The study is expected to be shared with industry next week during an American Institute of Aeronautics and Astronautics forum.
The authors also included a former officer from the U.S. Embassy in Beijing and a former fellow at George Washington University's Cybersecurity Policy and Research Institute.  
Findings were derived from public information, such as a 2012 Pentagon Defense Security Service Counterintelligence Directorate analysis, a 2011 RAND Corp. study, and disclosures by victimized companies. 
Cyberattack attempts aimed at disrupting national airspace activities were not analyzed. No such network attacks on U.S. aviation critical infrastructure have been divulged. 
Carr added on Thursday that the joint-venture companies experiencing cyber threats usually reported the attackers were unsuccessful. "These companies have defended against cyberattacks whose goal may have been stealing their [intellectual property]," he said. "While the goal of an attack is usually to steal IP rather than create disruption or sabotage, the specific goals for each attack reported aren't known." 
(Image via Gts/Shutterstock.com)