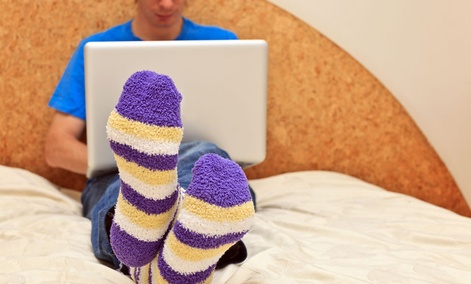 "How can you become a telecommuter?" asks one of a profusion of online guides on this topic. "You can start by doing your homework, creating an action plan, and being flexible."
You can add "don't be female" to that list.
For women, there are major drawbacks to requesting to work remotely, according to a new study by Christin Munsch, a sociologist at Furman University.
Munsch had 646 people read a transcript of a fake phone conversation between an employee and a human-resources representative. The employees asked to alter their schedules for a period of six months, requesting either to work from home two days per week or to come in early and leave early three days per week. Perhaps unsurprisingly—given what we know about women and likability—this went over better when the worker was a man.
From the study release:
Among those who read the scenario in which a man requested to work from home for childcare related reasons, 69.7 percent said they would be "likely" or "very likely" to approve the request, compared to 56.7 percent of those who read the scenario in which a woman made the request. Almost a quarter—24.3 ...