The Navy Battles for 'E*WARFARE' Brand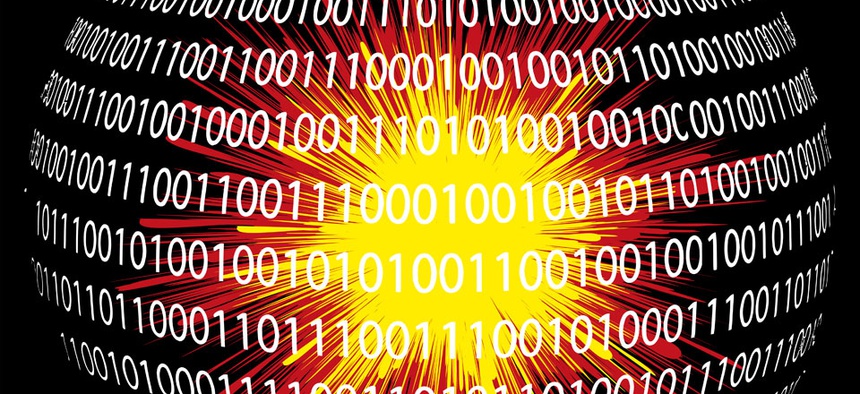 The Navy has trademarked the name "e*WARFARE" and registered to reserve the rights to "E*WARFARE" in a preemptive move to deflect lawyers and fraudsters.
As of last week, e*WARFARE -- lowercase "e" and "WARFARE" in all capital letters, with an asterisk -- is the exclusive logo for official electronic warfare publications, according to Navy officials.
And it's likely E*WARFARE -- all caps with an asterisk – will be the brand name on military e-books, hard-copy materials and informational discussions about the topic.
The brand's insignia has some snazzy graphics. 
"All the wording is underscored by a lightning bolt," states the Office of Naval Research's trademark filing.  
The rights cover the stylized rendering of the characters.
The real benefit of trademarking the name is that it will help deal with confusingly similar uses of the term, Geoffrey M. McNutt, associate counsel for the Office of Naval Research, told Nextgov today.
A federal registration "provides notice" and practical information to attorneys and Internet-savvy business people who might be considering claiming rights, he said. 
"There could be deliberate infringements. There could also be innocent infringements," McNutt acknowledged. There could be "someone with bad intent who is deliberately trying to rub up against the Navy's reputation for being knowledgeable in this area."
By law, however, the military doesn't need to register the trademark to sue scammers who, for example, sell bogus "official" military E*WARFARE videogames.  
The rights come in handy when a company applies for a similar trademark at USPTO, McNutt said.
"The Patent and Trademark Office would cite our prior registration against a similar-looking trademark," he said. In addition, the rights offer the Navy a presumption of ownership.
"And also it provides actual notice so the types of people who want to do things the right way, want to do a search, steer clear of a similar mark," McNutt said.
Last week, Chief of Naval Operations Adm. Jonathan Greenert emphasized the relationship between electronic warfare and the Navy's purpose.
"Control of the information is going to be the key to the future," he said at a Space and Naval Warfare Systems Command change of command ceremony. The cyber tools aboard Navy Growler planes jam adversary electronic systems so U.S. combat aircraft can safely attack.   
"Until we put a pod on the Growlers, with all the electronics working to dominate the electromagnetic spectrum, they're just aircraft flying around burning fuel," Greenert said.  
According to a USPTO trademark application submitted Friday, "E*WARFARE" would be reserved for "downloadable books in the field of electronic, information technology and cyber warfare techniques and technology" as well as "printed publications, namely, brochures, booklets and teaching materials in the field of electronic, information technology and cyber warfare techniques and technology to the warfighter."
A third use described is very similar to the one for "e*WARFARE": 
"Providing information to the public about the provision of electronic, information technology and cyber warfare techniques and technology to the warfighter, namely, providing information to the public about the Electronic Warfare Systems Architecture (EWSA) and Electronic Warfare Battle Management (EWBM), which allows for specific delivery of technological adversarial effects on computer, communication, Electronic Warfare (EW) and networking systems to create warfighting effects in the battlespace against hostile entities through technological means identified by the EWSA/EWBM specific processes and engineering; providing information to the public about research, test and development in the field of the EWSA and EWBM in the context of fielding of warfighting capabilities; providing information to the public about the EWBM (Electronic Warfare Battle Management) services architecture, which provides technology for real-time cueing, display, and delivery of electronic warfare information and cyber warfare activities; providing information to the public about the management of electronic warfare technologies delivered to warfighters and acquisition systems that produce measurable and effective warfighting EW effects in spectrum, information operations and related cyber engagements."

(Image via Sangoiri/Shutterstock.com)